First things first.
The most common question every newbie ask while starting with content marketing is:
Where to start with content marketing?
This is simply because there are so many steps you can take in an online place.
So, it is always better to have a clear idea (a step-by-step process is even better) about where to start with.
In this email, we'll cover 7 beginner-friendly steps to make your content marketing presence effective.
Let's first look at the below illustration created by Orbit Media.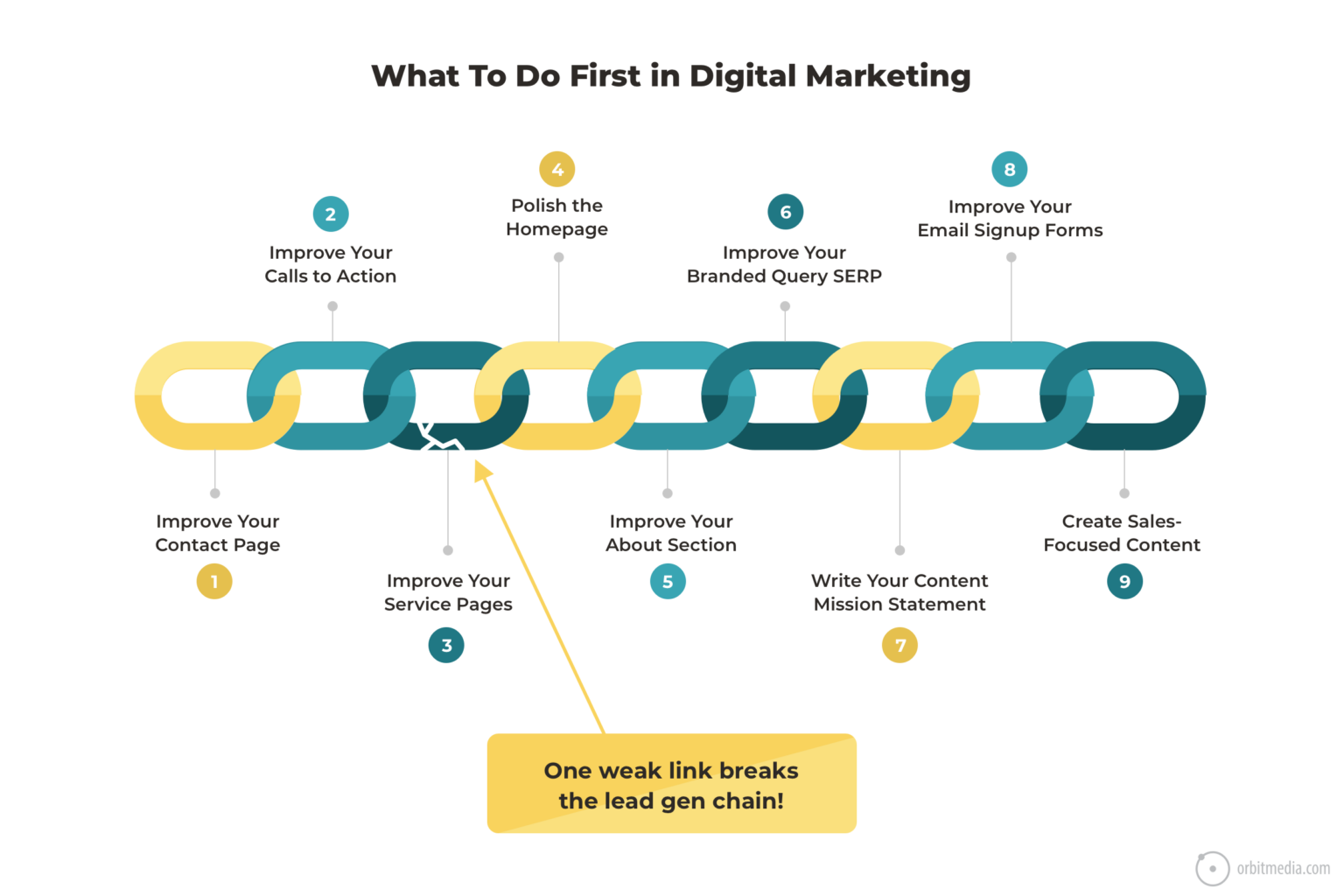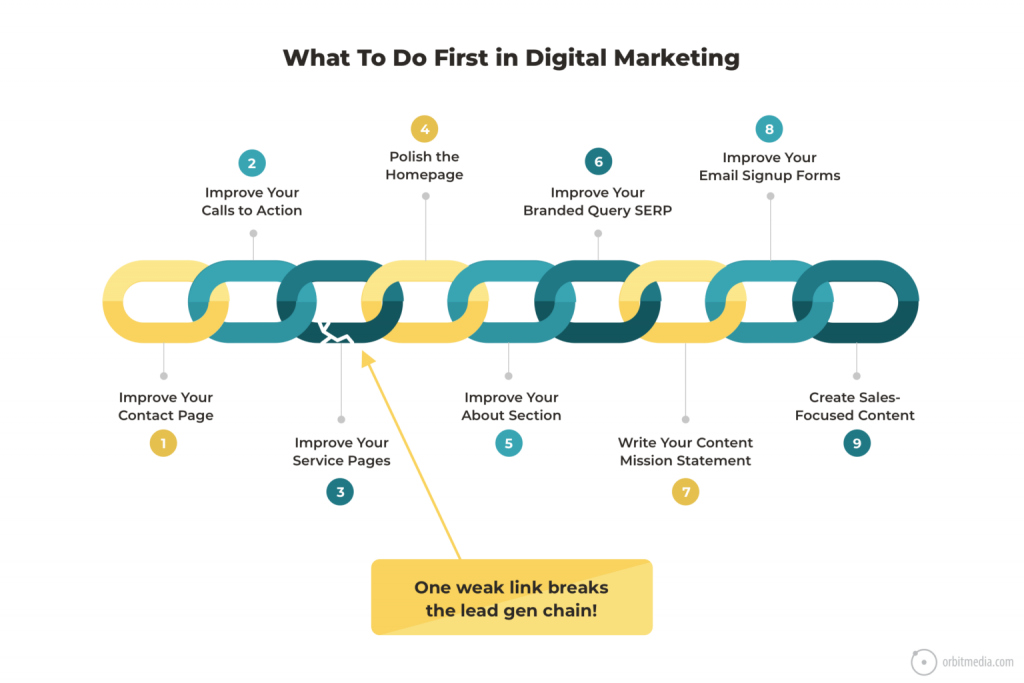 Image credit: OrbitMedia.com
Even in digital marketing, you need to make sure that your marketing funnel doesn't have any leakage.
From driving traffic to closing sales for your business, there are several steps such as subscribing for a newsletter, filling up the contact-us form, reading blog posts, searching for brand reviews online, visiting service pages, getting into a free consultation call, etc.
And, to make your content marketing funnel leakage free as much as possible, you need to have a solid foundation.
This is what you're going to learn in this article.
Let's get going.
1. Optimizing contact us page
'Contact-us' page is the best place to turn visitors to become a potential lead.
Few things to consider here:
Don't ask too much information (name + email + address + company + D.O.B, etc). This will reduce the conversion rate.
Make it simple looking and mobile responsive.
Track the conversion rate of your contact-us page (Use Google analytics)
2. Improve your call-to-action
From your service page to blog posts, you may add multiple call-to-action to encourage visitors to take any specific task.
But adding CTA without mentioning the benefits that readers will get can make a negative impact on the conversion rate.
In fact, 70% of businesses lack a clear Call-to-Action, DSIM.
Here's one important tip you should be considering while crafting your CTA.
Making your CTA benefits or solution centric is a great way to increase the conversion rate.
Here's what to consider and what to avoid:
Dont's: Adding a call-to-action specific to your service.
Do's: Add solution-based call-to-action
Refer to the below example.
Service-based CTA:
Fill the form to get a free consultation from an experienced marketing expert.
Solution-based CTA:
Fill the form to learn how our marketing experts can help you generate 3x more leads.
Suggested: Subscribe to the content marketing newsletter to get actionable insights every Monday.
3. Using testimonials effectively
Take a moment and check where all of your service testimonials are added on the website.
If it is visible to only the testimonial page, then you need to redesign.
Here's how.
Use every page of your site as a sales person to communicate with your visitors.
So the best practice would be to add genuine testimonials to every possible pages (if it fits normally)
Some pages to consider are:
Home page
About page
Contact Us
Newsletter page (if any)
Also, you can use testimonials to increase your conversion rate. No matter what your CTA is about, adding real testimonials (usually with a headshot image) near the CTA button actually results in a higher conversion rate.
Let me show you an example: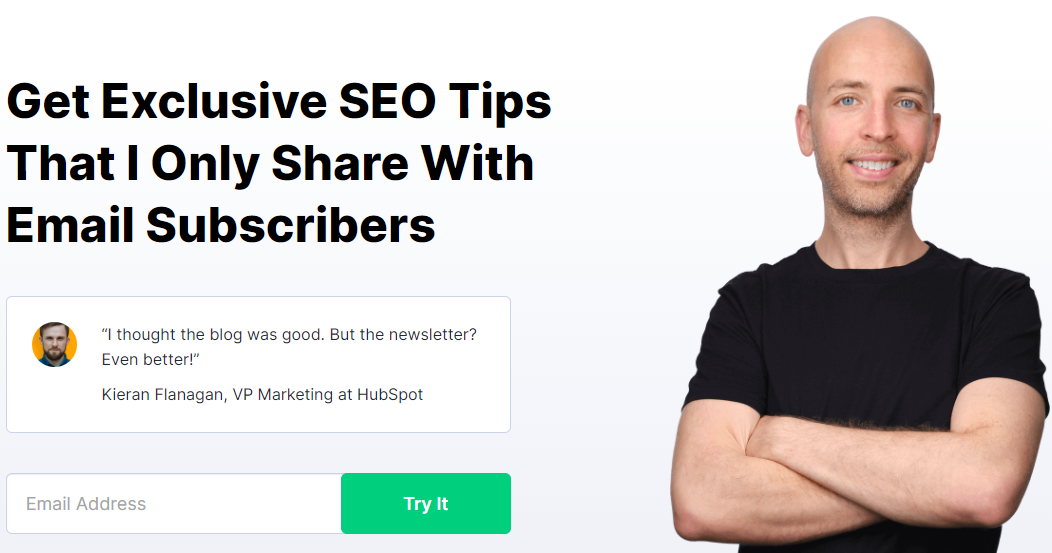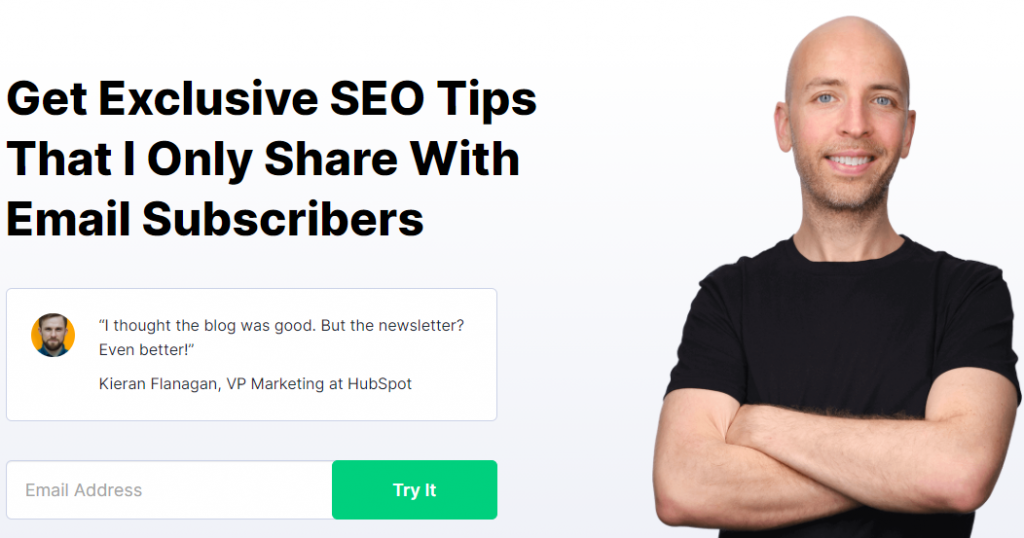 4. Don't limit your content strategy
Here's the problem that many of the marketers make:
Trying to create more and more service or brand centric or bottom of the funnel content. Here are some examples:
Why XYZ is the best marketing agency in India
How much does it cost to hire a marketing agency in India
Though these content topics are important for any business, you need to dive deep into content creation.
Here's how.
Create content for:
Awareness stage (When prospect is trying to know more about the problem)
Example: "Do I need a patent attorney/agent to prepare and file a patent application?"
Consideration stage (When the prospect is trying to find the best fit solution for the need)
Example: "Best marketing agencies in the US"
Action stage (It's time when the prospect will take the final decision of doing transaction)
Example: Business case studies, Free eBook, consultation call, etc.
Make sure you cover all of these stages properly to create content accordingly.
Also, if you're just starting out it is always preferred to create more content specifically targeted to the awareness stage.
That will help you bring more potential audience into your top of the funnel.
5. Building domain authority
This one is harder than all the above.
Building domain authority is difficult because it takes a lot of time and effort.
One easy way is to contribute to other websites related to the patent industry. As a reward you get a link back to your site.
When done this regularly, chances are your domain authority will increase over the time.
As a result, your search visibility (SEO rankings) will improve significantly.
6. Optimizing thank you page
To optimize the thank you page (Post-subscription page), you need to have one in the first place and redirect to it when someone joins your newsletter or fills up the contact-us form.
Because many sites don't even have a thank you page.
Once you have a thank you page, you need to do the following things.
In that way, you can measure the percentage of people converting and coming to the thank you page.
Even you'll be able to identify weak pages that are causing more exits from your site.
Encourage people to perform one more task
When someone already joined your newsletter, you may ask your subscribers in the thank you page to check your recent articles or any paid products or even check out case studies for your services.
The goal here is to keep your users engaged with either relevant content or products.
Here's an illustration that explains the whole process: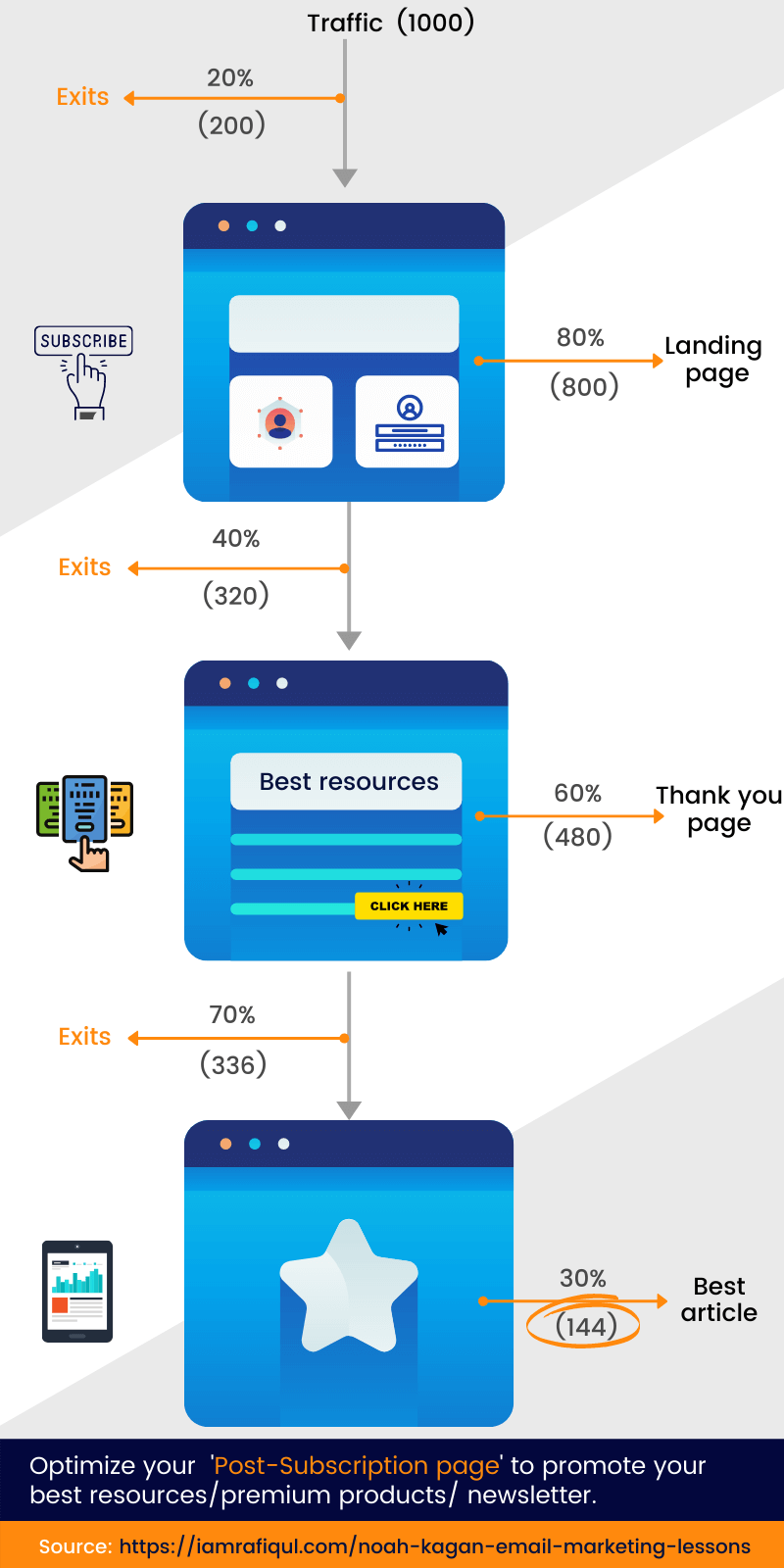 7. Consider EAT to provide trustable content
In the Quality raters guideline by Google, it is clearly mentioned that E-A-T is one of the characteristics of a high quality web page.

What is EAT in SEO anyway?
"E-A-T stands for expertise, authoritativeness, and trustworthiness".
In other words, Google will now measure the quality of a web page by understanding whether the content is the trusted source of information or not.
To strengthen your website E-A-T value, you can consider following things:
Make sure your every piece of content on your site is either created or reviewed by professionals, experts.
Use your about us page to showcase the team or the founder of the brand. And, leverage structured data to add more and more information about the people behind a brand.
Use structured data strategically: From blog post, to event, add structured data to give Google additional information about your content.
Give more attention to E-A-T if your site belongs to the YMYL category– Any category that may impact on readers financial situation, health, and happiness. (Eg: Health, finance, etc.)
Audit your existing content. Check for duplicate, thin content along with external links. External links to authoritative sites is a sign of a trustable source of information.
Aim to get more reviews from your customers. Having a good number of genuine reviews helps your site to be considered as an authoritative in your niche.
Here's an in-depth guide on how to improve your EAT SEO
Final words
Content marketing isn't just about creating more and more content but about creating and distributing content in a way that adds value to the audience and your business as well.
These seven tips mentioned in this article will help you to make your content strategy more effective.
Now it's your time to actually implement these strategies and get the most out of your content marketing effort.
Sk Rafiqul Islam is the founder of Content Marketing VIP, an actionable newsletter that helps content marketers to grow their traffic and generate leads. Rafiqul also shares content marketing, SEO & lead generation strategies and tips at iamrafiqul.com. When not in work mode, he spends time playing football and reading books.