Hey👋, Rafiqul here.
Welcome to Content Marketing VIP that delivers actionable insights, the latest updates, & free resources every Monday, for free.
First time here? Read past episodes.
LET'S GET STARTED →
Actionable insights ↓
💡 1. Expert advice on making a landing page that converts
After auditing 500+ websites, Blake Emal ([email protected] Copy.ai) shared his key learnings on making landing pages that convert.
Tip 1. Only use imagery that moves the story along.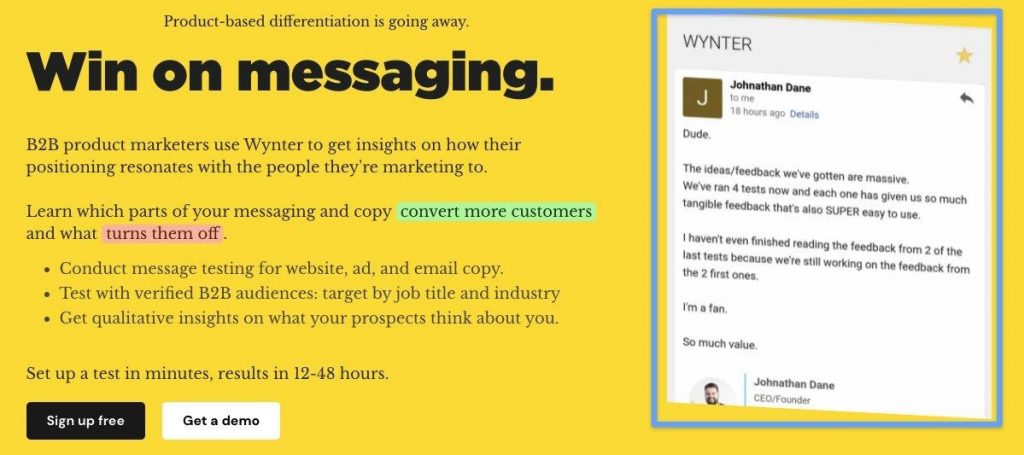 Here's what Blake Emal suggests,
"If your product only needs words to describe it, don't use imagery. Imagery should improve understanding."
What should you do?
Avoid using images just because everyone says that images make your copy more compelling.
> Instead, consider using this as a tool to strengthen your messaging, answer readers' questions, or reduce the friction for taking the desired action.
Check out his Twitter thread where he added 16 more tips on improving landing page conversion.
(It's' an absolute watch for any marketer)
💡 2. The rise and fall of content marketing and blogging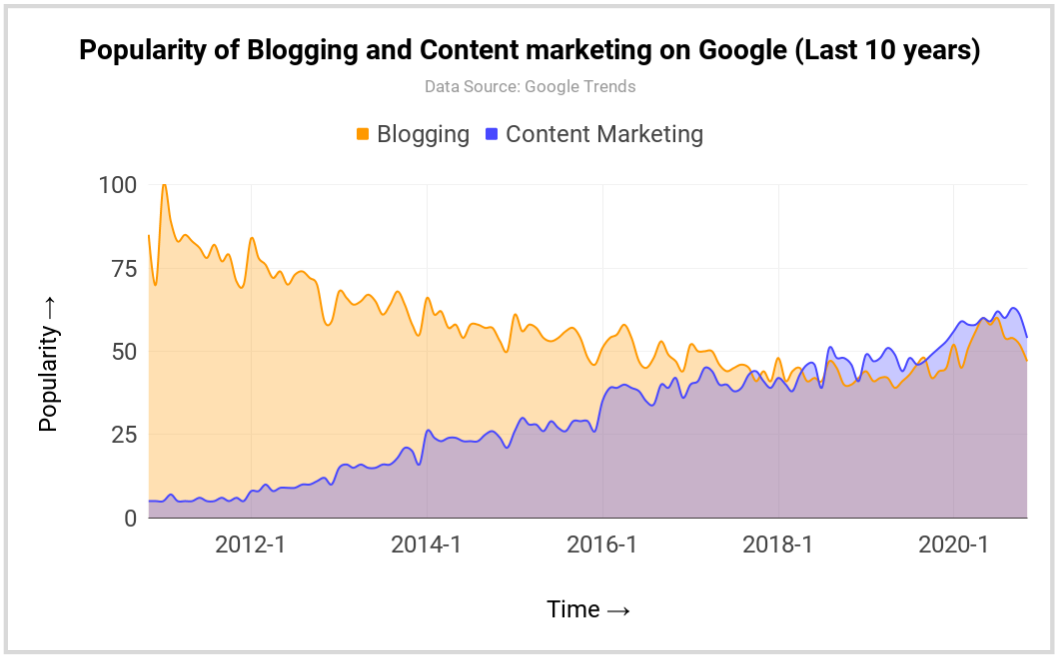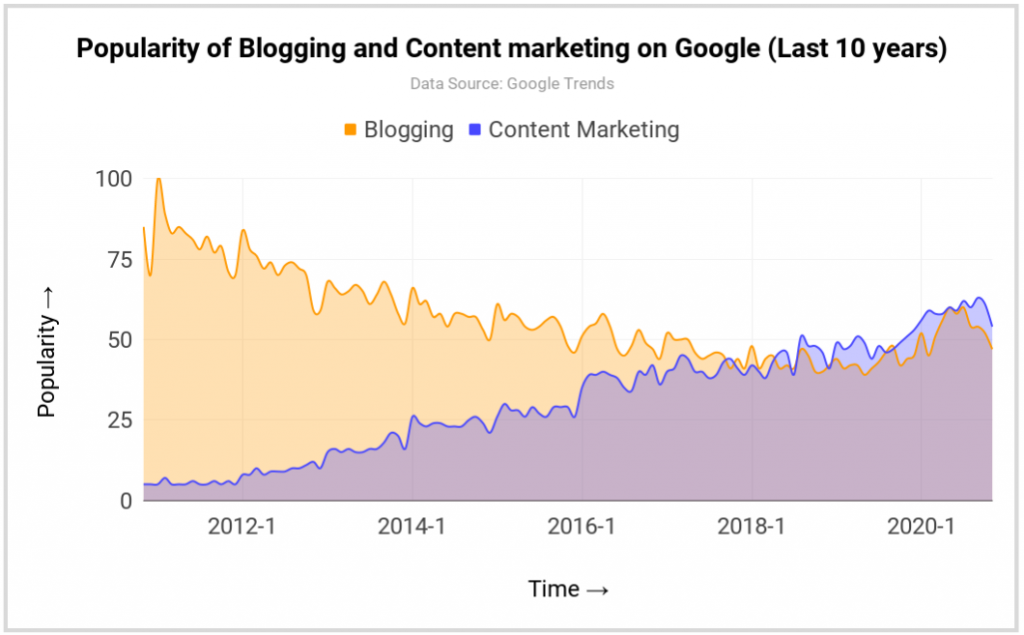 In 2010, Blogging was 18.8 times more popular compared to content marketing. But, in 2020, Blogging is 1.15 times less popular than content marketing.
(Note: Popularity in terms of Google search demand)
What does this chart indicate?
Content marketing isn't just about blogging. If blogging is a part of your content marketing strategy, then it's time to think like a content marketer rather than a content creator.
Creating good content isn't enough for you as a content marketer. Focus on content distribution, conversion optimization, influencer outreach, audience building, and everything that helps market your product with content.
Here is what content marketing VIP members think of this rise and fall chart:
> Many people understood that blog is a part of content marketing and started considering blog as a strategic content marketing tool.
(by Bairapaga John)
> People were more into creating content back then and since it was easy to rank during those days and that promoting the content was not on a large scale.
(by Abhishek Patil)
> Now, if you blog but are not good at content marketing, it won't work.
(by Durbar Ezio Ghosh)
💡 3. Increase Your Conversion Rate
Often marketers follow traffic to increase their product-sign up, newsletter subscription, etc.
But the truth is: Conversion rate plays a bigger role than traffic.
Case I. 10k visitors with a 0.5% conversion rate = 50 Sign Ups
Case II. 10k visitors with a 2% conversion rate = 200 Sign Ups
That's a 300% increase in SignUps.
The good news is improving the conversion rate from 0.5% to 2% is easy when done right.
Here's a framework that is easy to implement to boost your conversion rate: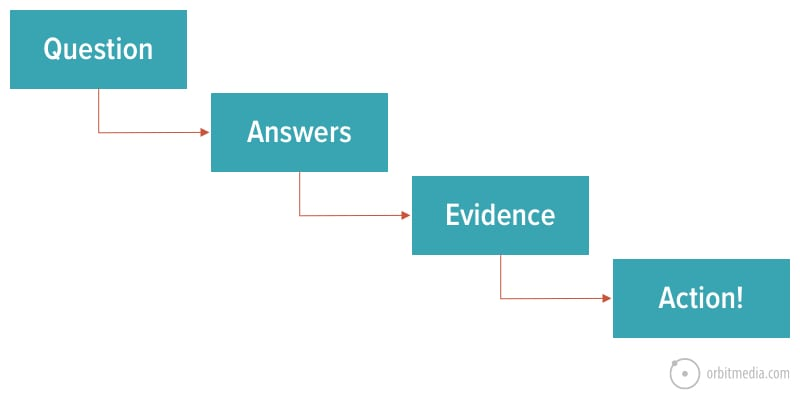 1/ Find questions your users often ask
2/ Answer those questions and address concerns
3/ Include evidence
4/ Provide an easy-to-take action
Here's an example by OrbitMedia that illustrates the above framework.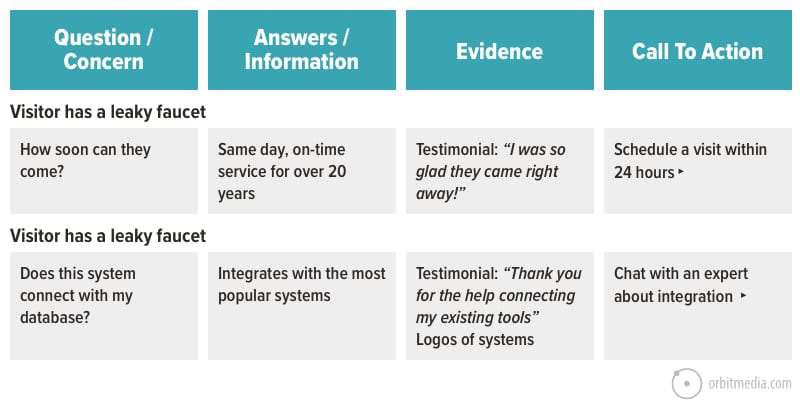 Insights from OrbitMedia
Free resources ↓
💡 1. Stand-Out Sales Content In 60 Minutes
The end goal of almost every business is to drive more sales. And, creating high-performance sales content is one way of achieving that.
Join this 1-hour webinar to learn how to create sales content and use them along the customer journey.
Plus, You'll learn →
Content automation to boost sales productivity.
How to engage users with content
From: Content Marketing Institute
Date of the webinar: May 12, 2021
💡 2. Mobile-First UX Examples That Increase SEO Ranking & Generate More Leads
The majority of the site traffic now comes from mobile devices. So focusing on mobile-first UX design makes sense.
In this webinar, you'll learn →
Real examples of mobile UX that helps in increasing conversion and sales without sacrificing the user experience.
Date of the webinar: May 11, 2021
From Semrush
💡 3. Delivering Relevant Content At Scale
Delivering relevant content to the right people at the right time is one of the best ways to stand out on the web.
Yet, many businesses find it difficult to provide relevant content at scale.
You'll learn:
-The top causes of content waste
-Where bottlenecks persist in the content creation process
-How businesses are scaling their B2B content engines
Date of the webinar: May 11, 2021
From Acrolinx and Forrester
Latest happenings↓
💡 1. Twitter announced Tip Jar- A new way for people to send and receive tips
Now, Twitter is no longer only about followers, retweets, and likes. With Tip Jar, you can send and receive tips.
Here's a sneak peek of Tip Jar →
As of now, only a limited number of people who use Twitter in English got access to this feature.
If Tip Jar is enabled for your account, you'll get to see an icon next to the following button.
💡 2. Google's recommendation for authors, content writers
Signal (a rival of Facebook-owned Whatsapp) made the most transparent and creative Instagram ads to show users the amount of data Facebook collects and sells to advertisers.
Here's the actual ad: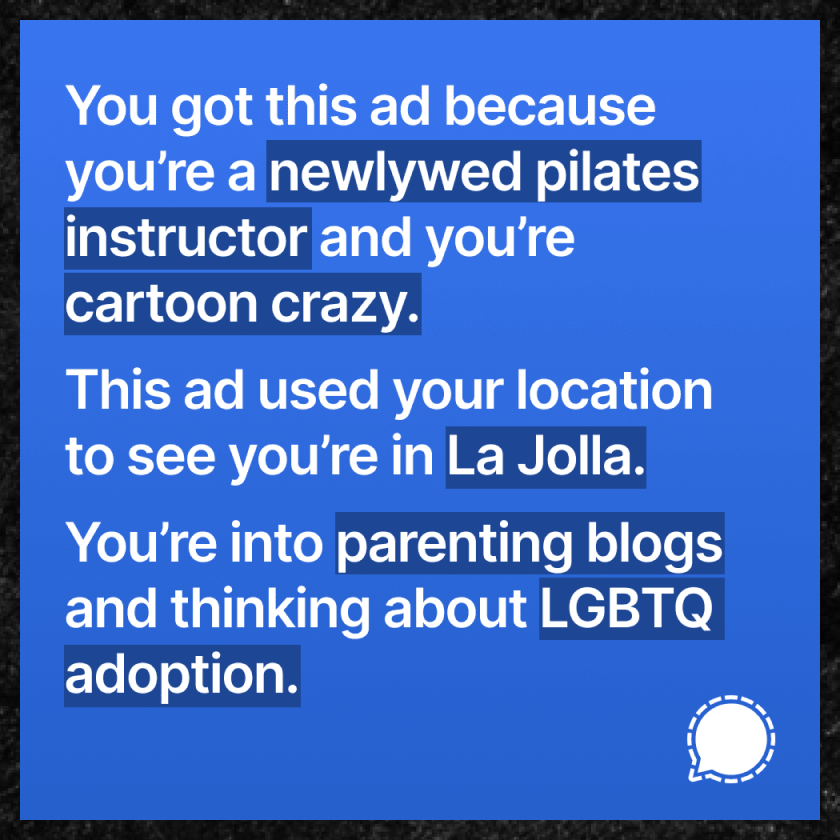 Soon, Facebook banned their ad account.
Surely, this is one of the most creative ad campaign examples in recent time.
Read more about the full story between Facebook and Signal
Expert Quotes ↓
💡 1. Content strategy that every early-stage startup should consider
"In the early stages of your organization, content can play an important role in helping your audience understand
> Who you are,
> What you do, and
> What you know
Consider creating people-focused content about your founders and team, product-focused content about your offering, as well as educational content that helps demonstrate your expertise."
— Melanie Deziel (Author of The Content Fuel Framework)
💡 2. Benefits of investing in visuals, custom images for building content assets
"When you add visuals to your storyline and narrative, it adds as a powerful way to convey your message.
A wise man once said, "Genius is 1 percent perspiration and 99 percent presentation.
So make good use of the real estate through visuals."
— Biswajeeta Rath (Senior Analyst, Community Management at Sprinklr)
Have Some Fun ↓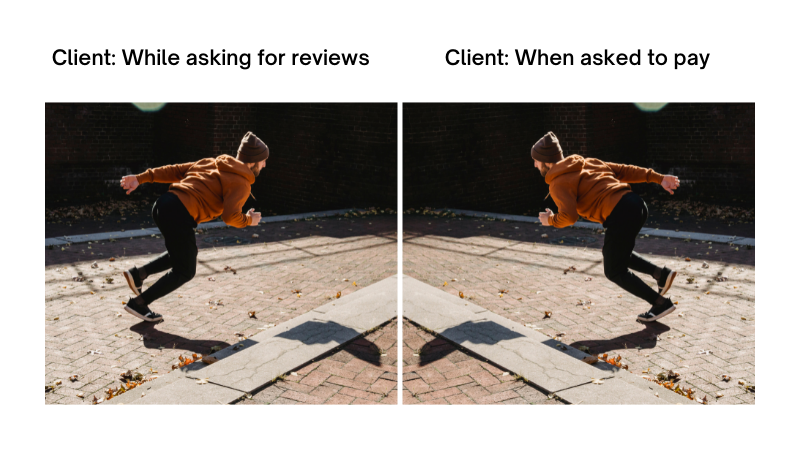 Not every time but many time I faced this 😑
If you find this newsletter deserving to be seen by others, please share or forward this with the folks interested in content marketing. Thank you so much for all the love ❤️ & support 🙌