"For you to achieve your goals, visitors must first achieve theirs." – Bryan Eisenberg (co-founder of BuyerLegends).
Hey👋, Rafiqul here. Welcome to Content Marketing VIP that delivers actionable insights, the latest updates, & free resources every Monday, for free.
First time here? Read past episodes.
LET'S GET STARTED →
---
Actionable insights
💡 1. How to measure the ranking difficulty of a keyword?
Here, sharing my checklist, so you don't waste time ranking for either too difficult or irrelevant keywords.
🗹 1. Search intent → Ahrefs guide on identifying search intent is super useful.
According to this, you need to identify: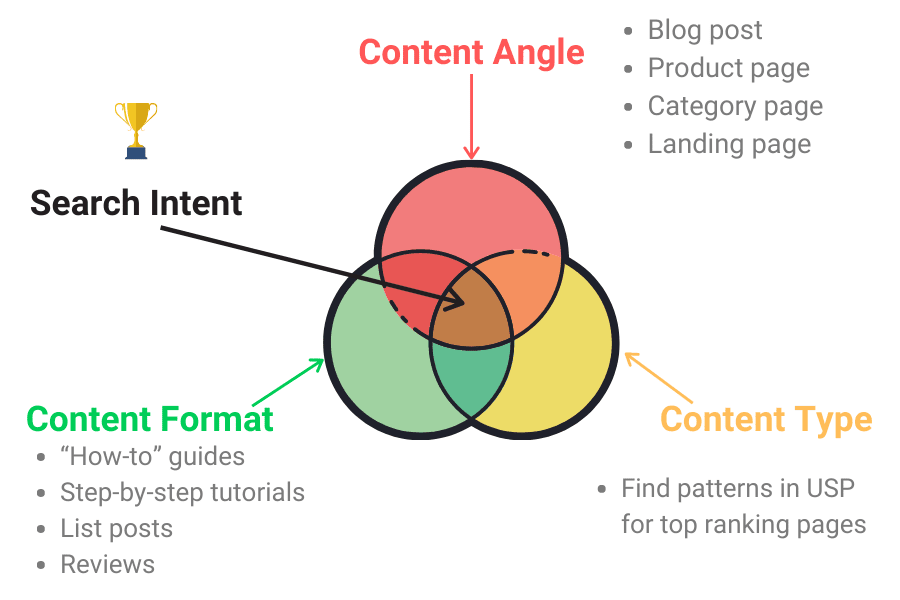 Content-type- Are they Landing pages, blog posts, service pages, product pages, or category pages?
Content format- Are they how-to guide, list posts, reviews, or expert opinions?)
Content angle- Identify the patterns between top-ranking pages. Are most pages time-sensitive (in 2021…), price-sensitive (under $200 or $50 offer)?
Now, proceed further with your target keyword only if you can match these three 'C's of search intent.
🗹 2. Last updated time and word length →
This is especially helpful for blog posts.
If you find pages with a last updated time 2 years ago or 5 years ago (no fixed rule but the older it is, the better for you), consider this an opportunity.
Even for evergreen topics, this same method will be useful to some extent.
Likewise, check for word length.
It is highly possible that articles with 500 words will be less comprehensive than articles with 1500 words.
Ranking opportunity is there if you see articles with significantly fewer keywords rank on the 1st page.
In my case, I consider the lower bar of 100 words.
You can find these metrics pretty easily with Thruu (free SEO tool).
Here's a snapshot →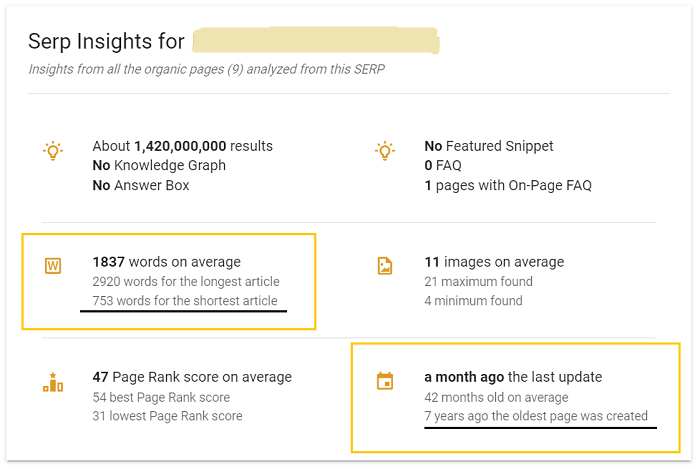 🗹 3. Link profile & domain authority →
Yes, links are still important to rank pages.
It is common that for a low authoritative site (say, DR <25), competing with high authoritative domains (DR>80) is hard.
Also, look for the quality and type of referring domains of top-ranking pages (at least top 5).
It's better to compete with a similar range of websites or pages with similar link profiles.
🗹 3. No shortcut →
As of now, you have to check SERP results manually to understand the possibility of ranking for keywords.
A few more tips:
Don't just give up on keywords because of high DR and strong link profile.
If you're confident about creating at least 10x better content and fulfill the search intent better than others, you should always go for the keyword.
💡 2. Adding human photos is an underrated marketing tactic
"Marketing is about telling stories, and stories have characters.
Which means that images of people are key to connecting with potential customers.."- Andy Crestodina.
Yes, human pictures are a GREAT way to form human bonds with the audience.
In fact, adding human images can boost your conversion rate significantly.
Here's another example:
An A/B test performed by Medalia Art found that using artist images instead of painting pictures increased the conversion rate by 95%.
That's how powerful adding images can be.
So, the question is, where should I use images to humanize your brand/site?
Here are some of the places where you should be using human images (real images, not the stock photos) →
Also, you can use photos of yourself in places like:
Home page and About page of your site
Sidebar for blog sections
Author Bio
Now, it's time to make your site/brand/content/message more humanized.
💡 3. Email marketing insights for service business
Chris Grullon has worked with AppSumo for 4+ years as an Email Marketing Manager.
Here are his top advice on creating powerful emails for the B2B service:
First, if you don't have an email list, stop reading this and start building one.
Next, start with the most basic welcome email sequence →
First email → If someone signed up for any freebies, then simply deliver that content. Make your email short and deliver what you promised.
Second email → Now, it's time to introduce yourself to your audience.
Don't forget to highlight what types of emails they'll receive in the future.
Also, share the reason behind your newsletter, facts about you/your business, and add credibility by adding your achievements.
Third email → Introduce your service. Don't try to convince them to hire you. It's time to make them aware of your service and business so
Fourth email → Now, it's time to get back to the business. Pitch your service and have one strong CTA.
Possible CTAs could be like:
15-minute consultation call
Book an appointment
Note: Always have a follow-up email ready as your fifth email.
Insights from Appsumo's email marketing guide
---
Free resources
💡 1. Register For The Content Strategy Virtual Event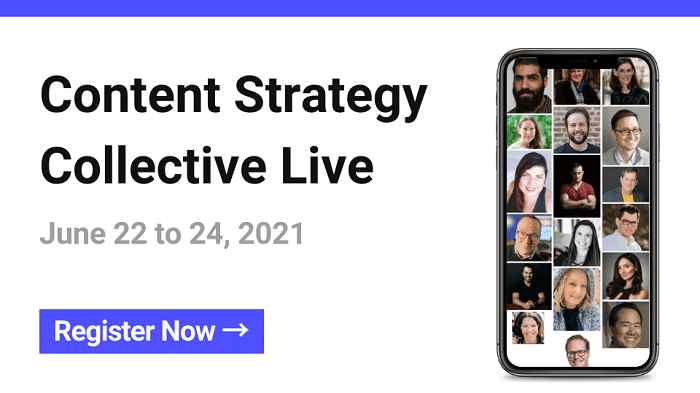 If there's one content marketing event you can attend this week, this should be the one.
Join 20+ content marketing and SEO experts and get insights on content strategy, SEO, link building, improving content ROI, and many more…
Some of the speakers who will share their content strategies in this event:
Andy Crestodina (CMO @ Orbit Media)
Rand Fishkin (Co-founder of Moz and SparkToro)
Kevin Indig (Director of SEO @ Shopify)
Zoe Hawkins (Content marketing manager @ DGraph)
From: MarketMuse
Date: June 22 to 24, 2021
Get your free pass: Content strategy live event
💡 2. How to Measure – And Optimize – Your Website Performance
The website can be one of the central pieces of your content marketing strategy.
Hence, it is important to get the most out of it to drive traffic and generate leads.
In this webinar, you'll learn:
How to optimize website performance for traffic and leads
What to optimize to boost conversion
Setting the right conversion goals in GA
From: Orbit Media
Date of the webinar: June 22, 2021
---
Latest happenings
💡 1. Learn more about the person behind the news article
Now, Google is testing article carousels within the knowledge panel of some authors and journalists.
Barry Schwartz recently tweeted this beta test of Google with a preview.
This is one of the ways Google is pushing the E-A-T factor to provide content from trustworthy experts.
Here's what Google said on this new feature →
"This carousel will help you quickly understand what subjects that person has recently covered and make it easy for you to find some of their latest work."
Learn what is EAT in SEO and why is it so important
💡 2. Many new features added to Twitter Spaces
Here are some of the key updates happening for Twitter Spaces:
> Schedule spaces: Now, you can schedule your twitter spaces up to two weeks in advance and get enough time to promote them to your audience.
> Audio recordings: Spaces will allow you to download the audio recordings of spaces (hosted in the last 30 days)
> Listen via the web: You don't necessarily have to join spaces from your mobile devices. Now, it's possible to join via Twitter.com as well.
> Discoverability: Twitter is beta testing the 'Spaces tab' so users can easily find and join them.
💡 3. Google search console insights is now live to improve content performance
This week, Google has launched the 'search console insights' feature to help you measure and improve your content performance.
With search console insights, you'll get to know:
What are your best-performing and trending pieces of content?
How do people discover your content across the web?
What do people search for on Google before they visit your content?
And a few other useful insights.
What's in it for you?
This is a great feature that allows you to visualize the content performance in a new way.
My advice will be to audit your content performance periodically, so you know what's working and what's not.
And, once you get familiar with this, you should start tracking the progress in Google Analytics to get more advanced data about content performance.
Where to access this feature from?
Just go to the Google search console, and under the overview tab, you'll get to see this new feature.
---
Expert Quotes
💡 1. Branded content or Irrelevant content?
"Writing tip:

Don't publish that blog post the same day you wrote it.

Wait 24 hours and edit liberally.

Then publish."

– Blake Emal (CMO @Copy.ai)
💡 2. Building an audience is the key
"Good marketing doesn't end when you get new customers.

Nurture new relationships.

Turn your customers into passionate brand advocates."

— Jeremy Moser (CEO @ uSERP)
---
Have Some Fun ↓
On a serious note 🤔
If you find this newsletter deserving to be seen by others, please share or forward this with the folks interested in content marketing. Thank you so much for all the love ❤️ & support 🙌