"Content marketing is the gap between what brands produce and what consumers actually want."

– Michael Brenner, CEO of Marketing Insider Group.
Hey👋, Rafiqul here. Welcome to Content Marketing VIP that delivers actionable insights, the latest updates, & free resources every Monday, for free.
First time here? Read past episodes.
Let's get started →
---
🎯 Actionable insights
💡 1. 10x Your Content Reach With A Content Distribution Strategy
If clicking on the 'Publish' button is the end of content distribution, then you're wasting the true potential of content assets.
Here's how you can 10x your content reach with a distribution strategy: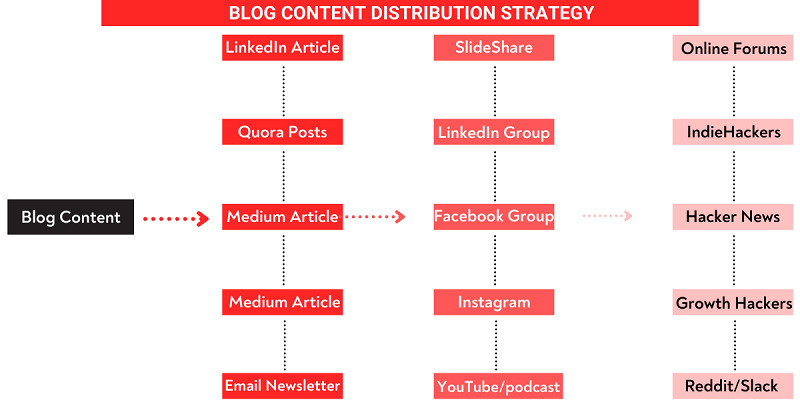 1/ Immediate distribution
There are various places where you can share your article to reach a new and relevant audience.
These platforms are →
Medium posts (Import the article and get a canonical tag to the original piece)
Quora posts (Share the article link with relevant tag)
LinkedIn article (Publish your content as a LinkedIn article. To drive people from LinkedIn to your site, add something like "read the complete article here.")
2/ Expand your blog article
Repurposing is not a copy-paste method to distribute content from one channel to another. You need to expand the content.
Turn the article into a Slideshare presentation.
It's not necessary to make your presentation text-heavy. Add charts, visuals, graphs to do storytelling with your content.
Surely, your blog post will have multiple sub-topics covered. Consider each sub-topics into a separate social media post.
Whether B2B or B2C, you may find your ideal customer hanging out on LinkedIn or Fb groups. Don't just share the link to the article.
Instead, let them know how this content is going to make their life easier.
3/Make the extra effort
Social media isn't the only place where your audience is spending time. For example, if you're into startups, businesses, there are valuable communities such as Indiehackers, Hacker News, and more.
To find these communities, type 'Top [your niche] communities.'
This will show you all the possible places to distribute your content and generate ROI for your business.
👉 Read The Ultimate Guide On Content Repurposing
💡 2. Get More Exposure To Your Podcast Episodes
If you're running podcast shows, creating a mindmap of the podcast episodes could be a great way to reach more listeners.
Here's how →
"Create a mind map of your podcast episodes through Mindmeister, and it's added to their public library, which gets crawled by Google.
Tilt Take: A visual organization of your podcast also can be helpful to attract new listeners or engage people."
👉 Insights from Espree Devora (Shared by Thetilt)
💡 3. Find Winning Content Topic And Create Research-based Original Content
Original research tends to get more social shares, mentions, links, and traffic, a/c to the study of Buzzsumo.
But not every topic is a good fit for your research.
Here are four elements of a winning research topic:
Relevant to your software industry
People are interested to know about
Not much research is done on the same topic
Here's how to find the right content topic to conduct original research:
1/ Start your research on forums, Quora, Reddit and see what's one thing that people claim without any solid data.
An example →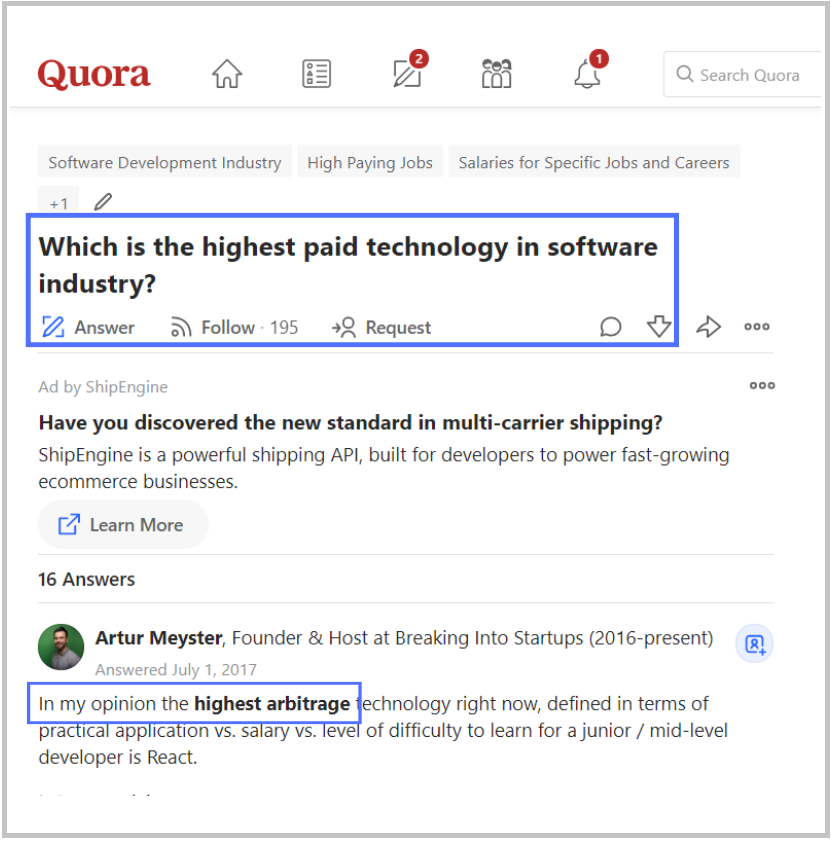 When you see people have answers but no data or study to claim, consider this as an opportunity.
In this case, you can run a survey or collect data from available sources to create a list of software technologies based on cost.
Using a similar approach, I found a key content topic, 'Current digital marketing jobs state.'
As a result, many marketing influencers in India shared the study report within groups, FB groups that generated hundreds of visits in 3 days.
---
🗓️ Upcoming Events
💡 1. The Ahrefs Content Marketing Strategy: Product-Led Content & SEO
From expert-level content to beginner's guide, Ahrefs is excellently using content as a sales machine.
Join Tim Soulo (CMO @ ahrefs) and learn:
> Behind the scene of Ahrefs product-led content
> Keyword strategy for SaaS brands
> How much to invest in link-building
> Calculating the ROI of your content marketing effort
From: Tim Soulo
Date of the webinar: September 7, 2021
💡 2. Three Ways SEO Has Changed This Year & What It Means for You
Aligning your SEO strategies with the latest Google updates is important for SEO folks.
Otherwise, it won't be too long to get behind your competition in the SERP.
Join this webinar and learn:
Recent updates from Google
Proven ways to future-proof your SEO strategy
From: SEJ
Date of the webinar: September 8, 2021
💡 3. Email Marketing Event [3 Back-To-Back Live Sessions]
From new privacy rules to trends in B2B email marketing, there are so many things you'll learn from this email marketing Friday forum.
Event Agenda:
B2B Email Experiences That Wow
The Great Email Evolution: Apple's Mail Privacy Protection, BIMI, and More
Think Like a Strategist: A Template for Email Success
From: MarketingProfs
Date of the webinar: September 10, 2021
---
🆕 What's New
💡1. New Academy Course: How to Master Local Keyword Research
Want to master the art of keyword research that discovers the hidden opportunities for local businesses?
This week, BrightLocal launched a practical keyword research academy course that teaches you:
Finding seed keywords
Using free tools to expand a keyword list
Creating a comprehensive keyword profile
👉 Get Enrolled In The Local Keyword Research Course
💡 2. Using Interstitials/Popups? Follow This Condition To Avoid Negative Ranking Factor
Not all pop-ups are bad. In fact, interstitials can be a tactic to boost your Google Adsense revenue.
But how do you know whether using interstitials negatively impacts your SEO performance?
Here's What John Muller Suggests Regarding The Use Of Interstitials:
"If someone comes to your website and the first thing that they see is this big interstitial, and they can't actually find the content that they were essentially promised in search, then from that point of view, that looks bad."
So, if you're using interstitials on your site, then ensure that your popup isn't:
The first thing a user sees when they land on your site
Covering the main content (at any time when a user is on your site)
Displaying standalone popup that a user had to be dismissed before accessing the main content
Covering the above-the-fold main content
👉 Watch The Clip From SEO Office Hours
---
💬 Expert Wisdom
💡 1. Building An Internal Linking Strategy
"🔗 When planning internal linking, link to each of these types of pages:

✓ Parent (broader intent, same topic)

✓ Child (longer-tail intent, same topic)

✓ Grandchild (even longer-tail intent, same topic, popular only)

✓ Similar (pages on semantically related topics)."

– Sam Underwood (eCommerce SEO specialist)
💡 2. Here's An Idea For Your Next Piece Of Content
"Here's a topic for your next newsletter, thread, or blog post:

Look at your resume.

Pick out a business outcome you were responsible for.

Write that story."

– Amanda Natividad (Marketing Architect for SparkToro)
---
😄 Have Some Fun
If you find this newsletter deserving to be seen by others, please share or forward this with the folks interested in content marketing. Thank you so much for all the love ❤️ & support 🙌