"Copy is a direct conversation with the consumer."

– Shirley Polykoff
Hey👋, Rafiqul here. Welcome to Content Marketing VIP that delivers actionable insights, the latest updates, & free resources every Monday, for free.
First time here? Read past episodes.
Let's get started →
---
🎯 Actionable Insights

💡 1. AIDA Copywriting Formula In Action
You'll never meet a copywriter who is unfamiliar with the 'AIDA copywriting framework.'
Here's what AIDA stands for →
Attention: Grab your reader's attention in the first few seconds
Interest: Give them reasons to keep reading
Desire: What's in it for the reader?
Action: What action do you want the reader to take?
Here are some AIDA copywriting examples to get inspiration from:
Example 1/
Example 2/
👉 Learn How To Use The AIDA Copywriting Formula (SiegeMedia)
💡 2. Step-By-Step Process Of Doing Keyword Research For Startups
This week Hrishikesh Pardeshi shared the SEO strategy that helped him to drive 750k/month organic traffic.
Here's the step-by-step process:
1/ Find Seed Keywords
Seed keywords or head keywords are foundation keywords that define your niche, have higher search volume, and short-tail keywords (generally).
2/ Expand Your Seed Keywords
To expand the seed keywords, take help from:
– Wikipedia – Table of contents
– Quora – Questions & related questions
– Google – Autocomplete & People also ask for
3/ Get In-depth Keyword Research Report
Use keyword variations, modifiers, or related searches in Ahrefs to get a more extensive list.
4/ Filter Keywords For Low-mid Volume & Low Keyword Difficulty
Normally low-mid volume keywords are easier to rank fast because of low competition.
You need to find out keywords that are low-mid volume & low keyword difficulty (KD).
Use KD to get an initial idea of the competitiveness of the keyword.
5/ Check For Search Intent
The best tool to check for the search intent of any keywords is → manually checking the top 10 results.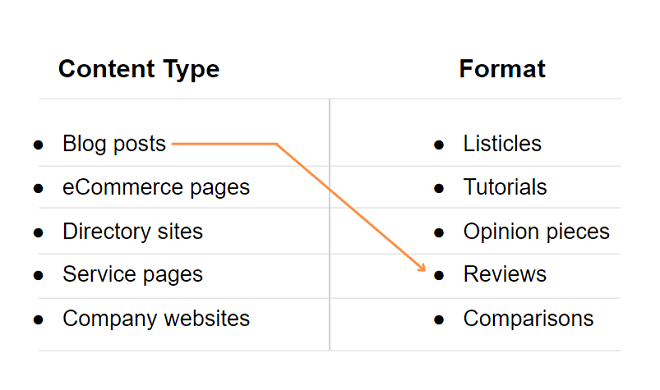 6/ Find the green signal
If there are multiple pages in the top 10 results with lower authority than you and/or poor quality content, you have an advantage.
7/ Don't forget to optimize your content readers
Time spent on the page is a signal that Google uses to understand the content quality.
Add bullet points, illustrations, screenshots, charts to help readers digest the information.
7/ Competitor analysis
Often you'll get tons of keyword and content ideas. Also, don't hesitate to borrow the SEO strategy of competitors.
Look for the most linked pages, keywords that drive most of the traffic, etc.
8/ Internal linking
Get the SEO juice from your top pages (high authority pages) flowing to all other pages.
9/ No orphan links
Orphan pages are pages that cannot be found by internal linking.
Say a No-No to orphan pages.
10/ Update & optimize old articles
Don't let your competitors outrank you by making fresh content with the latest updates.
👉 Read The Full Thread On SEO Strategy
💡 3. Find Internal Linking Opportunities In Seconds
Internal linking, if done strategically, can boost your site's performance in terms of rankings and user experience.
Here's how to find internal linking opportunities in seconds:
1/ Go to Google.
2/ Type the following: Site:yourdomain.com intitle:search term
Here's an example →
This will show all the pages that contain your search term in the title. That means these pages are super relevant to each other and make sense to link internally.
3/ Add Internal links to these pages from your new content.
Also, consider adding internal links from old pages to newly published ones.
👉 Read further about internal linking strategy for SEO
---
🗓️ Upcoming Events
💡 1. How To Scale And Grow Your Enterprise Technical Seo Strategy
Technical SEO is a key factor especially large in eCommerce sites.
From managing the out-of-stock products to improving brand visibility, it requires technical SEO assistance.
Join the webinar & learn:
Scaling SEO progress for eCommerce sites
Planning & improving technical SEO strategy
Improving user experience for online stores
From: Search Engine Journal
Date of the webinar: September 15, 2021
💡 2. 30 Minutes On The Last 30 Days In Search & Content
Get updated with the latest algorithm update and changes to strengthen your SEO strategy.
Join this webinar and get the latest news and trend analysis about:
Technical SEO
Content marketing
Google updates
From: Conductor
Date of the webinar: September 16, 2021
💡 3. Mapping B2B Content To Each Stage Of The Sales Funnel
Content is king only when it directly or indirectly helps to drive conversions.
As a content marketer, you should build a content strategy that supports sales and conversions.
In this webinar, you'll learn about:
Creating content throughout the buyer's journey
Editorial content calendar that helps in the sales funnel
Building content assets that convert
From: BrightTALK
Date of the webinar: September 16, 2021
---
🆕 What's New

💡1. Technical SEO Alone Doesn't Make Your Website High Quality
In a recent tweet, John Muller of Google mentioned that fixing technical issues on the site doesn't improve the overall website quality.
Here's what John Muller exactly said:
"Website quality is not something you can fix with technical changes.
If you want search engines to take your site more seriously, you really need to improve the game there."
I'd highly recommend you go through the QRG to understand what Google considers high-quality and low-quality pages.
👉 Download the Quality Raters Guideline (PDF)
💡 2. Update On Google's Page Title Update
Kevin Indig asked an important question to John Muller regarding Google's page title update:
"If Google rewrites my title, does it take keywords in the title into account when it measures the relevance of a page based on the new or old title?"
In a reply, John says NO. That means Google still uses the original page title for rankings.
---
💬 Expert Wisdom
💡 1. Add Unique Content To The Website's Homepage
"Just found an example of a website's *homepage* appearing in the 'crawled, not indexed' report.

It turns out that the site is a WordPress site showing the latest feed of articles as the only content on the homepage, with no other unique content.

Pro tip: Avoid doing that"

– Lily Ray (EAT & SEO expert)
💡 2. Writing A High Converting Landing Page
"The success of your landing page is 98% about the offer. Make it as good as possible.

Make it about the user. Forget 10% off.

Real value. Work on your offer more than anything.

Then just put it on an undistracted landing page, and odds are it will work great."

– Peep Laja (Founder of Wynter)
---
😄 Have Some Fun