"SEO isn't something you do anymore. It's what happens when you do everything else right."

— Chad Pollitt.
Hey👋, Rafiqul here. Welcome to Content Marketing VIP that delivers actionable insights, the latest updates, & free resources every Monday, for free.
First time here? Read past episodes.
Let's get started →
---
🎯 Actionable Insights
💡 1. Steal Notion's Strategy To Create Personalized Landing Pages
Chances are you already know what Notion does.
For remote workers → Notion helps in project management and real-time collaboration.
For managers → Notion helps in managing the team and planning people.
For designers → Notion helps in managing the design assets.
Can you see the difference?
Notion is not meant for one specific audience, and it doesn't only have one use case, but many.
This is kind of the same situation for almost every SaaS company.
A SaaS product has multiple use cases and can be used by multiple audience personas.
But the mistake most of the SaaS businesses make is that:
They don't create separate landing pages for each audience profile or product function.
Instead, they go for a one-size-fits-all approach (which means one landing page for all).
Notion has 10+ landing pages based on audience profiles, function, and even team size 👇

The Benefits?
With this approach, Notion provides a super personalized product experience to every audience category.
That could've never been possible if they had opted for a one-for-all approach.
Ultimately, higher conversion for the product.
Action Items →
1/ Create a list of audience profiles, use cases where your product can be a perfect fit.
2/ Do keyword research to prioritize the list of keywords. Get metrics like estimated traffic, search intent, etc.
3/ Create landing pages for these different profiles and use cases.
4/ Ensure that social proofs and testimonials are relevant to the specific audience. This means a page built for startup founders will have testimonials from other startup owners.
Here's an example of finding landing page ideas for Canva:
Liked this so far?
Why not share this episode with others?
💡 2. Make The Website Navigation Menu As Simple As Possible
If you're planning to make the website navigation something unique and different from others, you need to hear the following advice.
Here's what Gill Andrews (Copywriter and Web Consultant) recommends:
"Navigation is the last place you should try to be creative. Your visitors won't read it. They'll scan it for familiar labels.
Anything that is unclear or requires them to pause and think will cause irritation or will be overlooked."
Here are some of the website navigation mistakes to avoid →
👉 Insights from Gill Andrews (Get a complete website content checklist, for free)
💡 3. Struggling To Find Content Ideas? Try Creating A Content Matrix
Content Matrix is a powerful way of finding content ideas based on inputs such as audience, content platform, content topics, and content angles.
Here's how to do it:
1/ Create a sheet
2/ Now, add a separate column for each of these:
Audience (List multiple audience personas based on your product or service)
Topics (Find broad topics relevant to your audience)
Medium (Pick different content platforms)
Angles (Find a unique perspective)
Here's an example of a content matrix →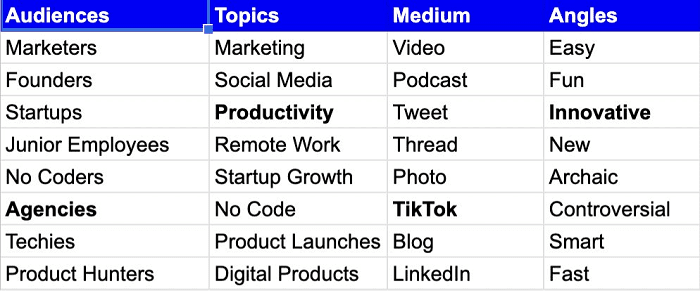 Image credit: Blake Emal
3/ Cross-pollinate columns and pick interesting content ideas.
This way, you'll never be out of ideas for content creation
💡 4. Here's How I grew My Newsletter From 0 to 1,000 [A Twitter Thread]
Thanks to you and other content marketing VIP members for helping us become a 1,000+ family.
Here are my 14 lessons from growing this newsletter from 0 to 1,000+ subscribers.
---
🗓️ Upcoming Events
💡 1. Drive Growth Through Content & SEO [2-Hours, 3 SEO Experts]
If you're tired of competing on SEO with large and reputable sites, you'll find this helpful.
Some of the questions that'll be answered in this session are:
How to compete on SEO with established sites in your niche?
How to plan an SEO-driven content strategy that leads to business growth, not just traffic growth?
How to create content that your target audience is looking for?
From: Omniscient Digital
Date of the webinar: September 23, 2021
💡 2. The Intersection of Content Marketing and Sales Enablement
You just cannot afford a content strategy that doesn't add any business value in terms of growth and sales.
But how do you use content that empowers sales and drive conversion?
Join this webinar and learn about:
Content strategy for growth and user engagement
Measuring the right KPIs for your content effort
From: MarketMuse
Date of the webinar: September 21, 2021
💡 3. How To Turn Branded Content Into A Revenue Generating Machine
Join Jason Vana (content strategist & founder of Shft Marketing) in this 1-hour session, where he'll be talking about:
How to drive inbound leads and revenue with content marketing
Building a content strategy that embeds your brand in people's minds.
From: Full-Funnel Summit Community
Date of the webinar: September 21, 2021
---
🆕 What's New
💡1. Strategic Internal Linking Helps Google To Trust Your Site
In Google office hours, John Muller discusses many important things about site quality and internal linking strategy for a new website.
Here's the issue:
A new German startup noticed that 90% of their pages are not indexed, although the site owner thinks the content is really useful for the people.
So, the genuine question was how to solve this indexing issue?
John Muller added:
"You have to create a more funneled web structure in the beginning.

And, then over time, as you see that Google is doing more and more on your website, then expand that step by step until you've reached the kind of your end situation where Google is actually actively indexing all of the content on your website."
Also, Glenn Gabe (SEO veteran) suggested the same:
"If you're launching a large-scale site, it's always best to start smaller (indexing-wise).
Let Google index your most valuable pages first & don't have millions of pages crawlable & indexable at one time.
As Google trusts your site more, it can crawl more frequently, & deeper."
TL;DR
Create high-quality content that provides unique value to the user.
Try to get the most important and valuable pages indexed first, not the entire website.
👉 Read The Full Story On SeRoundTable
💡 2. Google Launches Museletter, A Newsletter Platform For Content Creators
It's interesting to see Google join the newsletter game with Museletter (free to use).
So, How does Museletter work?
"Create a public profile for your Google Drive and publish any Google Drive file directly to it.
You can also publish to an email list. Just open Museletter, choose a Drive file, and publish. It's that easy."
What features Museletter will provide?
Community features
Engagement analytics
Allows you to offer paid subscriptions to your content, more.
Museletter is yet to come live. But you can apply for early access.
👉 Request Early Access For MuseLetter
💡 3. Lead Generation Form Or Large CTAs Can Be Seen As Ads By Google Under This Condition
Showing large CTAs or lead generation forms that push the main content below the fold can sometimes affect the page experience.
Not only that, but Google will also see large forms or CTAs on the page as ads if they are irrelevant to the page intent.
Example: A page about parenting guides showing large lead generation forms related to health insurance can be treated as ads.
👉 Watch The SEO Office Hours On This Topic
---
💬 Expert Wisdom
💡 1. How To Know Your Content Marketing Isn't Working?
"You should start questioning your content strategy around months 4-5.

You shouldn't expect to see SEO traction by month 4 in most verticals, but you should see leading indicators:

i/ Rankings starting to show and improve

ii/ Links and sharing on early assets you're promoting."

– Ross Hudgens (Founder/CEO @ siegemedia)
💡 2. Using Tracking Parameters On Internal Links Is A Terrible Idea
"Occasionally, I find websites that use tracking parameters on internal links (which then canonicalize to the clean URLs).

Almost always, this is done at the behest of their analytics/BI department.

And, it's always (ALWAYS) a terrible idea."

– Barry Adams (SEO Consultant at Polemic Digital)
---
😄 Have Some Fun
Sk Rafiqul Islam is the founder of Content Marketing VIP, an actionable newsletter that helps content marketers to grow their traffic and generate leads. Rafiqul also shares content marketing, SEO & lead generation strategies and tips at iamrafiqul.com. When not in work mode, he spends time playing football and reading books.