Creating content isn't the first goal of a content marketer but getting maximum business value from the minimum content effort is.
Hey👋, Rafiqul here. Welcome to Content Marketing VIP that delivers actionable insights, the latest updates, & free resources every Monday, for free.
First time here? Read past episodes.
Let's get started →
---
🎯 Actionable Insights
💡 1. Personalized Email Subject Lines To Grab Attention
Making your subject line as personalized as possible is one of the ways of getting your email read by the recipients.
Here's how to personalize the subject line:

1/ Try with including their first name in the beginning
What if you can't find their name?
Look for a company or product name.
That way, they're more likely to be interested in your email.
2/ Play into your prospect's ego
Another way to stand out is by doing a little bit of research about the person.
For example, look for their recent activities such as:
Published a new book
Written an article
Launched a new product, etc.
Try to include that in your subject line.
👉 Insights from Siege Media
💡 2. How To Segment Your Homepage When You Have Multiple User Types [Lessons From ActiveCampaign]
When you have multiple target audience profiles, it becomes difficult to optimize the website's home page.
Why?
Because your home page is generally the most visited page of the site and you cannot have multiple home pages for each audience type.
In that case, how to segment the homepage for different user types & better conversions?
Let's have a look at the Home page of ActiveCampaign →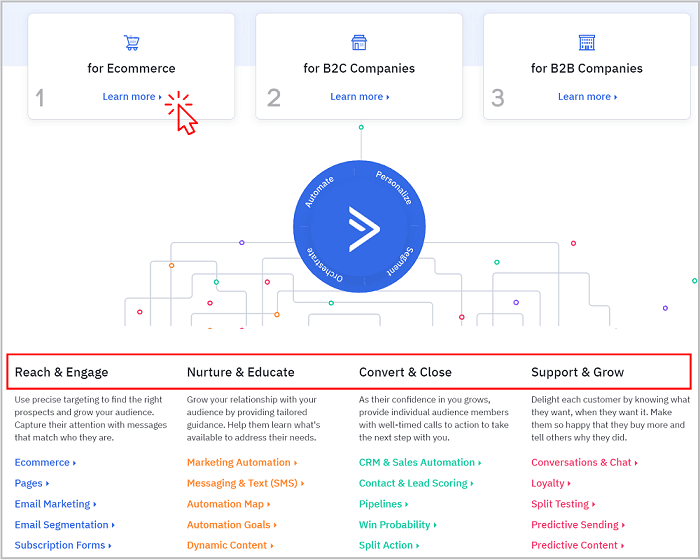 Just below the above-the-fold section, the home page is segmented into 3 three different types such as:
Ecommerce Business
B2C Companies
B2B Companies
And by clicking on any of these business types, you'll get redirected to the specific landing page.
For example, if you click on learn more (under the eCommerce), you'll be redirected to the eCommerce marketing automation page.
This approach guides the users to visit the most relevant landing page. As a result, clear user flow and better conversion.
To take this approach further, ActiveCampaign has also segmented the home page by buyers' journey.
Reach & engage
Nurture & educate
Convert & close
Support & grow
The application of email marketing software to reach and engage the audience will be different from converting and getting sales.
👉 Action Items
1/ When you have multiple audience types, segment the home page by user types, product use cases, or buyers' journeys.
2/ Connect each section to a specific landing page to give a more personalized experience to the users.
3/ Track each click and visits from the segmentation
4/ Set conversion goals in Google Analytics to track the performance of specific landing pages
👉 Insights From Content Marketing VIP
💡 3. One Golden Copywriting Tip: Use Words That People Use In Everyday Life
In copywriting, the goal is not to sound smart but to sound clear and natural.
Therefore remove those fancy/ landing page words from the copy.
An example →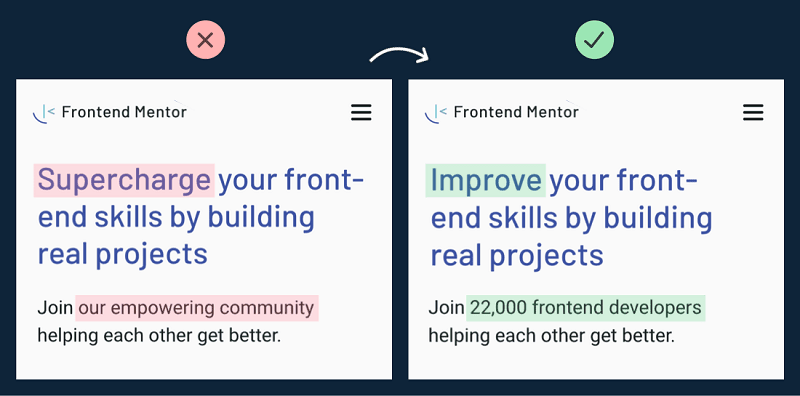 Here are some of the common 'landing page words' you need to avoid:
Unlock
Unleash
Enhance
Exceed
Empower
Supercharge, etc.
👉 Insights From Marketing Examples (Click To Learn 16 More Cool Copywriting Tips)
---
🗓️ Resources & Upcoming Events (100% Free)
💡 1. Write Titles that Google (and Users) Love [New SEO Tool]
In SEO, if there's one thing that matters more than top ranking is Clicks on your page.
But often, SEO folks ignore the importance of experimenting with Page titles.
With Zippy, you can experiment with titles at scale.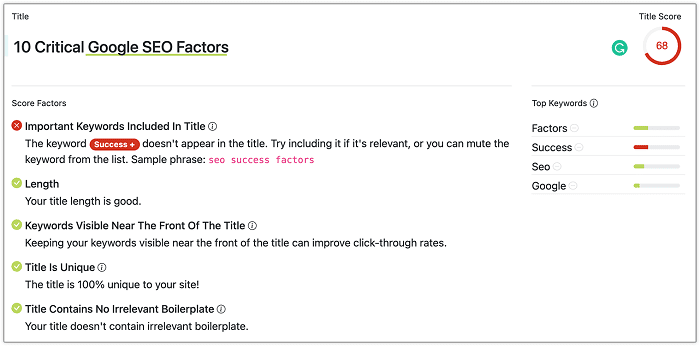 Here's what Zyppy does:
Track the title changes
Measure organic clicks
Finding poor performing and top-performing titles
Adding dynamic sitemaps and a lot more.
👉 Try Zyppy and Perform SEO Experiments
💡 2. Google Sheets Resources For SEO [Templates]
Automate your daily SEO tasks with our G-Sheet-based mini SEO tools.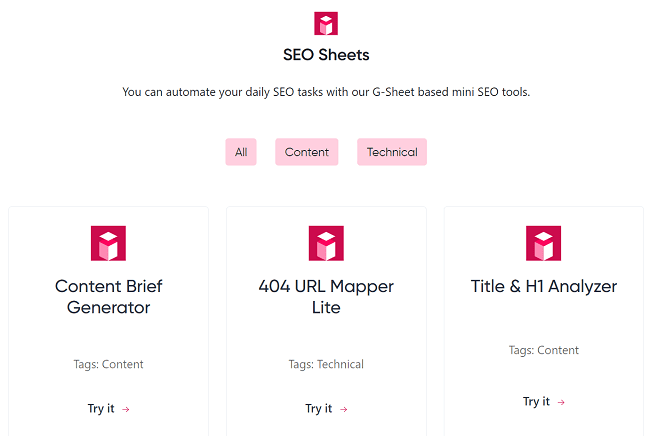 So far, you'll find sheets for:
Content brief generator
Title & H1 analyzer
Cannibalization Checker, and more.
💡 3. Building an Integrated Search Strategy with Lily Ray
When we say search engine, it's not all about Google.
There are search engines like Amazon, YouTube that you cannot ignore.
Join the webinar and learn about:
How audience interacts with content on different channels
Keywords and content strategy for each search engine
Understanding user behaviour and going ahead of your competitors on search engines
Type: Webinar
From: Similarweb
Date of the webinar: October 5, 2021
---
🆕 What's New
💡1. Google Published A New Documentation For Ecommerce Best Practices
The new documentation from Google was about making eCommerce sites more discoverable in the search.
Here are some of the key takeaways from the guide:
1/ Include structured data (SD)
Help Google to understand more about the business, content using structured data:
In the document, google suggested some of the relevant schema types for eCommerce sites:
LocalBusiness
Product
Review
FAQPage
BreadcrumbList
Website
VideoObject
2/ Well-designed URL structure matters
One of the best practices is using descriptive words in URL paths.
Here's an example:
3/ Make your eCommerce site navigation Google crawler friendly
4/ Promote the important products or categories
You may link the best products from the home page or blog posts. This will help Google understand the importance of pages within your site.
5/ Avoid linking to (or at least indexing) pages that don't have any useful content
6/ Give each page a unique URL
There are many more key takeaways that will help you optimize your sites for users and search engines.
So, It is highly recommended to check the best practices for eCommerce sites.
👉 Read The eCommerce Best Practices
💡2. At #SearchOn Event, Google Shared The Glimpse of The Future of Search
From the event, you'll get to know more about:
MUM (Technology to understand complex search queries)
Redesigned Search page
Role of credibility and accuracy of the content
Fact-check features, and a lot more.
👉 Key Takeaways From The #SearchOn Event
---
💬 SEO & Content Marketing Wisdom
💡 1. Re-Use High-Performing Content Before Creating Anything New
"If you are constantly focused on creating new content, I urge you to think again.

Chances are, you have content that has done really well.

Re-use that!

You may think your readers will scoff at seeing something that they have read before, but honestly, how many of your readers read everything?"

– Michele Linn (from Mantis Research)
💡 2. Fix The Leakage In The Funnel Before Driving Traffic
"Fix your funnel before driving more traffic.

I used double opt-in and had a lot of pending subscribers. I added "Important" to my confirmation email subject line.

That word alone improved my list growth rate by 30% 🤯"

– Andrea Bosoni (Founder of Zero to Marketing)
---
😄 Have Some Fun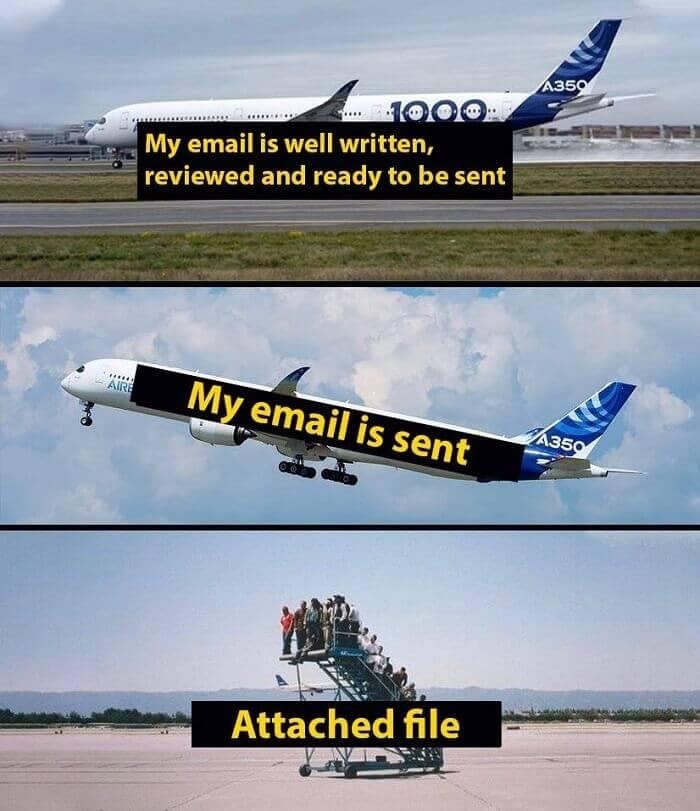 Sk Rafiqul Islam is the founder of Content Marketing VIP, an actionable newsletter that helps content marketers to grow their traffic and generate leads. Rafiqul also shares content marketing, SEO & lead generation strategies and tips at iamrafiqul.com. When not in work mode, he spends time playing football and reading books.