"Marketing is telling the world you're a rock star. Content Marketing is showing the world you are one."

– Robert Rose
Content Marketing Newsletter #37
Hey👋, Rafiqul here. Welcome to Content Marketing VIP that delivers actionable insights, the latest updates, & free resources every Monday, for free.
First time here? Read past episodes.
Let's get started →
---
🎯 Actionable Insights
💡 1. How A New Site Ranked On The First Page In 2 Weeks [Case Study]
Charles Floate and his team launched a new eCommerce site that has started ranking in only a couple of weeks.
A brief overview of the website:
Domain age: 4 months, Site type: eCommerce, Niche: Home, Location: UK
Here's the 4-step process that Charles used to grow the website
Step 1: Site Structure & Content
Within the first 3 months, the team has published around 100 posts (700 to 3.5k words).
They also optimized the site with internal linking. In fact, the writing team was instructed to add 1 internal link per 200 words.
"The site has about 250 indexed pages, around 80 products, and 5 main categories with around 120 different subcategories."
The URL structure is optimized depending on the site hierarchy. That helps users and crawlers to understand the site structure.
Plus, each category page has unique content to give search engines more useful information about the page. It helps in ranking category pages as well.
Step 2: Base Trust Signals
To prevent indexing issues for this new site, Charles built some trust signals such as:
A New Site Press Release (Cision, Yahoo, AP, etc.)
Wikipedia Page (Yet To Be Live)
KnowEm Social Profiles + Posting
Video Content
Fake Reviews (Quality Though)
Step 3: Citations & A Physical Address
GMB listing is one of the best places to start for getting citations. The team optimized the GMB listing with a physical address and local phone number.
"This also allows you to build citations which are a great pillow link and further trust signal."
Step 4: First Few Links Should Be High Quality
Make sure that your first few backlinks are:
Relevant to your niche
Pointed to the right URL with descriptive anchor text
High authority
That's all.
So the next time you work with a new site (especially eCommerce), consider these steps to get higher ranking faster.
👉 Insights from Charles Floate (Follow him on Twitter To Get SEO Insights)
💡 2. Optimize Your 'Newsletter Sign Up Page' Like SmallCase
If you ever create a newsletter landing page, make sure it clearly highlights:
Who's this for?
What to expect?
How often?
Social Proof
One cool example I recently found is from SmallCase.
Have a look at the example below: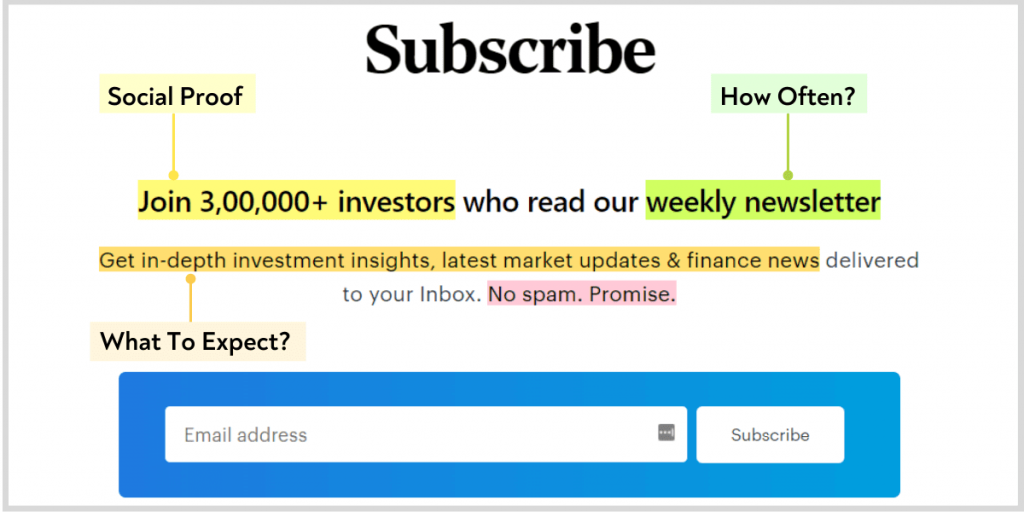 👉 Learn How To Use Social Proof To Boost Your Conversion
---
🗓️ Free Resources & Upcoming Events
💡1. Free AI Content Optimization Tool To Boost Your Content Marketing [By MarketMuse]
MarketMuse (a premium AI content optimization tool) recently announced a free version for all.
With the free version of MarketMuse, you can:
Find questions your audience is asking around the content topic
Find content gap to compete with the top 10 pages for the target keyword
Find internal linking opportunities in minutes
SERP analysis, and A LOT more…
Here's a snapshot of optimizing my recent article:
👉 Start Using AI Content Optimization Tool For Free (No CC Required)
💡 2. Keyword Research for SEO: Best Practices & Top Tips [Webinar]
Master the art of keyword research to find high intent keywords and improve organic visibility.
In this webinar, you'll learn:
How to find profitable and high-intent keywords
Keyword relevancy and search intent
Tips and best practices for keyword research
From: Search Engine Journal
Date of the webinar: November 3, 2021
(Can't make it live? Register to get the recording of the webinar)
💡 3. Purpose-Driven Content Marketing and SEO [Webinar]
Keyword optimized content, on-page tactics, and cold outreaching are no longer enough, thanks to the recent advances of Google in AI.
The solution?
A content marketing strategy that resonates with your audience and improves the authority signals that Google is looking for.
In this webinar, you'll learn about:
How to build a content strategy that resonates with search engines
Case studies of leading brands with a purpose purpose-driven approach to content and SEO
From: Semrush
Date of the webinar: November 4, 2021
(Can't make it live? Register to get the recording of the webinar)
---
🆕 What's New
💡1. A Free Tool To Understand The Search Intent And Find Related Keywords Searched By Users
This week, SearchResponse launched a free tool that gives you a list of 'people also search for' keywords.
"Using this tool, you can expand this list and surface hundreds of People Also Search For (PASF) keywords ranked in order of importance related to your topic or content."
With This SEO Tool, You Can:
Understand the search intent of search queries.
Find content gap (by looking at what's missing in your content)
And, more…
👉 Find 'People Also Search For' Keywords [Free SEO Tool]
💡2. Google's Penguin Algorithm Might Demote Your Site, If Necessary
Google released the Penguin algorithm back in 2012 to fight against:
Black hat SEO link building/spammy backlinks
Keyword stuffing
So far, it was clear that Google would just ignore the spammy links, and it wouldn't affect the entire site.
However, recently John Muller said that:
Google may ignore spammy links and demote the site if the system recognizes a clear pattern of toxic/manipulative backlinks created by the site.
Key Takeaway:
If your site creates spammy backlinks to manipulate the search ranking, you might need to rethink this to be on the safer side.
Disavowing links can be a good option if there are no other alternatives to dealing with link spam.
👉 Source: SERoundtable (Barry Schwartz)
---
💬 SEO & Content Marketing Wisdom
💡 1. Reminder For Email Marketers
"Email Marketers: Cut the dead weight.
Remove subscribers from your list who:
Don't open your emails
Don't click on your links
Don't purchase from you
Don't worry about losing some volume.
Engagement > Volume."
– Chase Dimond (Email Marketing Specialist)
💡 2. How To Avoid Creating Copycat Content?
"What to do when you can't hire writers who have expertise/experience in your niche?
For every content piece, ask startup team members to share:
POV on content topics
Quotes
Customer experience
Case study
Note: Founders or team members don't have enough time to write these things in most cases. In this situation, ask them to share voice notes and then transcribe the recordings.
Benefits?
These elements will prevent creating copy-cat content."
– Sk Rafiqul Islam (Creator of Content Marketing VIP)
---
😄 Have Some Fun
SEO is a long-term game. Invest in it consistently, and it will bring you a constant flux of traffic 😄.