"A content marketer's job is not primarily about creating content but marketing the business with content."- Dan norris
Hey, Rafiqul here. Welcome to the 1st episode of the Content Marketing Newsletter that delivers actionable insights, the latest updates, & free resources every week, for free.
If you find this email annoying, safely unsubscribe at the bottom of the email.
If that's not the case, support us by sharing this newsletter with your friends.
LET'S GET STARTED →
Actionable insights ↓
💡 1. Content Update Framework
Updating old content pieces (not creating new ones) is the fastest way to boost your traffic and leads.
But now all your content pieces are worth updating. You need a content prioritization strategy.
Here's a framework you may use for updating old content →
Never update your articles not old less than 6 months. Why 6 months?
Initially Google takes time to understand the topic and relevancy of your article and the process sometimes may take up-to 6 months (not a fixed rule).
Next, go through the 5-elements of the framework:
Traffic/Lead → Are these articles getting traffic (including Quora, social media, etc) or generating leads for business?
Relevance → Is the content topic still relevant to your service or product?
Original → Look for similar content pieces (almost same topic). Merging these content could be a possible idea.
Freshness → Are there any new case study or survey data that can be added within the article?
Opportunity → Look for articles that are ranking on the 2nd or 3rd page of Google. If there is good search volume for the keyword, this might be worth updating.
By considering these elements together, you'll get a list of existing content to update for more traffic and better conversion.
Learn more about content updating
💡 2. Write better headlines for charts and data
While adding charts and graphs within your content, your goal should be to give life to the data.
Summarize and tell a story from your data.
Here's an example.
Don'ts- 65% of digital marketing job description has a demand for Google analytics tools (most by any marketing tool).
Do's- Neither SemRush nor Ahrefs, Google analytics is still the favourite tool for online marketers.
[Demo data]
Insights from Camille Trent
💡 3. Find hundreds of title ideas for your content in minutes
Copyblogger has near 4,000 articles on their blog covering almost any post type (how-to, lists, Why, Guide, tips, etc)
Most of all, CopyBlogger is famous for their writing style and obviously the headlines.
To get title ideas, we'll get inspiration from the giant list of copyblogger articles.
Here's how →
Step 1. First identify the type of content you're creating. Is it a how-to guide, listicle article or any other?
Step 2. Search with following URL format →
https://copyblogger.com/?s=[Your content type]
Example: https://copyblogger.com/?s=[how-to]
Step 3. Now, you'll get tons of results with How-to articles.
Results I got after searching with 'How-to' term:
"How to Publish Regularly, Even If You Lack Writing Confidence"
"How to Hook Your Ideal Prospect with Content that Connects"
Tips: You can also add your primary keyword (such as marketing, best, copywriting, etc) in the URL.
Not every time you'll get useful results but most of the time this works.
Click to do your title research
💡 4. The science of creating high-performing service page
Looking to revamp your site or want to make your website conversion optimized?
You need to consider the below guideline for B2B service pages provided by OrbitMedia (web-design company).
Get in-depth guide to make the perfect B2B service page
Free resources ↓
💡 1. CMI mentorship program [Great opportunity for content marketers]
ContentMarketingInstitute launched a mentorship program for content marketers all over the world.
What's in it for you?
Get one-on-one career guidance from content marketing experts
Broaden your network with like-minded people
And many more.
Best part?
The mentorship program is free of cost. But you need to apply for this.
My advice: I genuinely feel this is an amazing opportunity for content marketers to learn from industry experts and discover opportunities. Grab this.
Last date to apply: 19th March, 2021
💡 2. SEO content writers guide [eBook]
Get this free eBook from Julian McCoy (Founder of Copyhacker) and learn how to optimize your content with keywords. Also, understand the basics of creating SEO optimized content that performs well on Google.
From crafting the complete system around your lead magnet to choosing the right lead magnet for your business, you'll learn everything.
💡 3. Website-optimization summit
Get your seat for the website optimization summit and learn how to turn your website into a revenue driver.
You'll also get best practices from industry experts.
Date of the event: 23rd March, 2021
💡 4. Webinar on the last 30 days of SEO
Missed the latest Google update? No worry!
Join this webinar organized by Conductor that will breakdown the SEO updates from the last 30 days
Date of webinar: 18th March, 2021
Latest happenings↓
💡 1. Add photo updates on Google Map without leaving any review
If you own a local business then encouraging your customers for review (even photo update) is going to help your business to reach more people.
This is how you can add photo updates on Google Map:
💡 2. Interesting upgrades from Microsoft Bing (Part II)
Imagine a SERP result that looks like an infographic. This is what you'll get to see for broad terms like south Africa, dog, cat, etc.
This is how it looks on SERP when you search for 'Cat.'
Isn't it amazing?
Read more about the upgrades from Bing. →
Expert Quotes ↓
💡 1. Have a website without publishing regular content? Here's a message for you.
"A website without a steady stream of useful content is just an online brochure. It has no pulse." – Andy Crestodina.
💡 2. A useful reminder for content creators
"Short paragraphs get read, long paragraphs get skimmed, really long paragraphs get skipped."- Jason Fried
Have some fun↓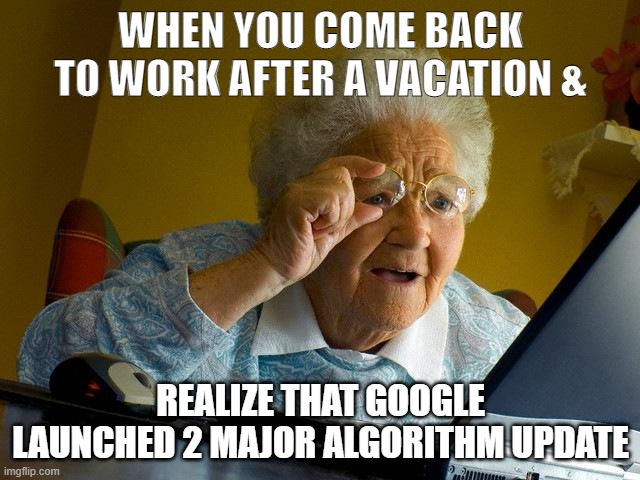 Why Google?
Submit a topic ↓
Share your biggest content marketing challenges with us.
Reply to this email with your challenges or any topic suggestion related to SEO and Content marketing.
We may feature your topic in the next episode of the content marketing newsletter.