"The best content doesn't win. The best-promoted content wins"- Andy Crestidona.
Hey, Rafiqul here. Welcome to the 5th episode of the Content Marketing Newsletter that delivers actionable insights, the latest updates, & free resources every week, for free.
If you find this email annoying, safely unsubscribe at the bottom of the email.
If that's not the case, support us by sharing this newsletter with your friends.
LET'S GET STARTED →
Actionable insights ↓
💡 1. Guide to building content-hub
Content hub (includes pillar page and topic clusters) is a way of winning SEO as a long-term strategy.
Pillar page- most comprehensive guide on the primary topic (specific & relevant to your business and audience)
Supportive content– Content on subtopics related to your primary topic
Off-site content- Content published on other's website (Guest post, etc.)
Collaborative content– Collaboration with influencers to produce content
Here's how you can build a pillar page to increase your authority
Step 1. Identify and write a pillar content.
Consider the primary topic related to your business that you want to rank for (Mostly a broad enough topic for 5000+ article, short-tail keyword)
Step 2. Create supportive content
Use Quora/ Ahrefs/ Google search (whatever your choice is) to find questions related to your primary topic. Make sure your sub-articles have a link back to your pillar content.
Step 3. Write for others
Consider writing for other websites. And, you'll write on topics related to your pillar page. A link back to your pillar page is also going to help.
Step 4. Collaborative content
Outreach influencers, experts to collaborate on relevant content topics. At least look for contributor quotes.
See the below image to understand pillar topic and subtopics (Niche- Diet)
Learn more about creating a pillar page
💡 2. Checklist to launch your newsletter without making beginner's mistakes
This year (2021), Twitter announced the acquisition of Revue (Newsletter platform).
In fact, Facebook is also going to build their newsletter platform for journalists and writers (Source: NYTimes)
No matter how many followers you have on social media, you never own the audience.
This is the best time to start building your audience with a newsletter.
Here's the checklist to get started:
1. Choose your newsletter topic. Be as specific as possible. For me, it is content marketing, nothing else.
2. Decide how often you'll send emails. Sending emails with no fixed schedule was my mistake. Fix a date and even time. Then repeat the schedule.
3. Create a focused landing page to get subscribers. Nothing else. Make sure it is fast, responsive, mobile-optimized.
4. Start promoting at least 2 weeks before launching.
5. Post on social media, add on your blog (if you have). Request others to join & share.
6. Create content for at least 2 weeks in advance.
7. Add your landing page URL to the email footer, social bio, about section
8. Set auto-responders. As soon as someone joins your newsletter, send them your best stuff.
9. Make it easy for people to share, subscribe to your newsletter.
10. Your CTA should highlight the benefit, ideal audience, and how often they will receive emails.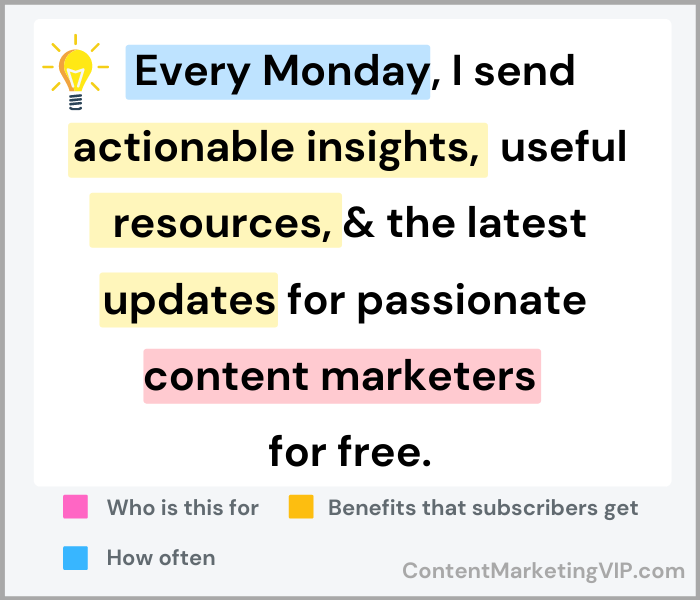 Learn how to get subscribers from scratch
💡 3. How to get your pitch accepted by big brands (Like HubSpot, Moz, CMI)?
Struggled to get your content pitch accepted by big publications?
Here's the framework for pitching
1. Write your content first. Then pitch to websites. Make sure your content is based on your experience, not just on theories.
2. Identify websites relevant to your industry.
Few ways to find relevant sites:
Use SparkToro and enter your industry or primary keyword
Google "Content topic" blogs + "guest post"
Find competing domains on Ahrefs
3. Don't pitch every site you come across following the above methods. Look for sites that haven't covered your article.
4. Optimize your content. Add internal links, metadata, images (relevant ones)
5. Now, it's time to pitch.
Hopefully, you can download the template that Steven Macdonald used for successful pitches on Moz, HubSpot, CMI, etc.
Download the outreach template
Insights from Steven Macdonald
---
Free resources ↓
💡 1. Content marketing AMA
Get your questions written down on a paper because the AMA on content marketing, organized by SemRush, will clear your doubts.
The panel introduction
Andy Crestodina (Co-Founder & CMO of Orbit Media Studios)
Keith Reynolds (Founder & CEO of publi.io)
Judith Lewis (Founder at Decabbit Consultancy)
Webinar date: March 25, 2021
Register and drop your questions
💡 2. 10x marketer vs. 10% marketer
Level up your marketing understanding with this upcoming webinar.
At the end of the webinar, you'll learn:
Difference between a 10x and a 10% marketer
How to find the opportunity to upgrade your marketing career
Webinar date: March 23, 2021
Join & level up your career in marketing
---
Latest happenings↓
💡 1. Facebook to add 3 more ways for content creators to monetize video content
Three updates Facebook is rolling out
Monetizing plan for short-form of video (Even on 1-minute videos)
The eligibility to start monetizing video content is expanded (For Facebook Page)
An easy way for video viewers to contribute (Live stream Ad eligibility)
💡 2. John Muller's advice on copied content ranking above the original one
What to do when you see someone copied your content and ranking above your original one.
Here's what John Muller suggests:
"The primary action you could take there, depending on the situation, is to look into the DMCA process."- John Muller.
He also stated that if you're continuously seeing that copied content is ranking above yours, then there might be a quality issue with your site.
Not sure how to file a DMCA complaint to protect your content? check out this guide
(Source: Google Search Central)
---
Expert Quotes ↓
💡 1. End goal of content marketing?
"Content marketing strategy without an audience development plan is no strategy at all." — Mark Schaefer.
💡 2. Creating more content should not be your goal
"When taking a content-first approach, our job as marketers is not to create more content … it's to create the minimum amount of content with the maximum amount of results." — Robert Rose
---
Submit a topic ↓
Share your biggest content marketing challenges with us.
Reply to this email with your challenges or any topic suggestion related to SEO and Content marketing.
We may feature your topic in the next episode of the content marketing newsletter.
---
Have some fun ↓