"Here's everything you need to know about creating killer content in 3 simple words: Clear. Concise. Compelling"- Demian Farnworth.
Hey, Rafiqul here. Welcome to the 7th episode of the Content Marketing Newsletter that delivers actionable insights, the latest updates, & free resources every week, for free.
If you find this email helpful consider supporting us by sharing this newsletter with your friends.
Actionable insights ↓
💡 1. Which pages & articles work for you? Which are failing?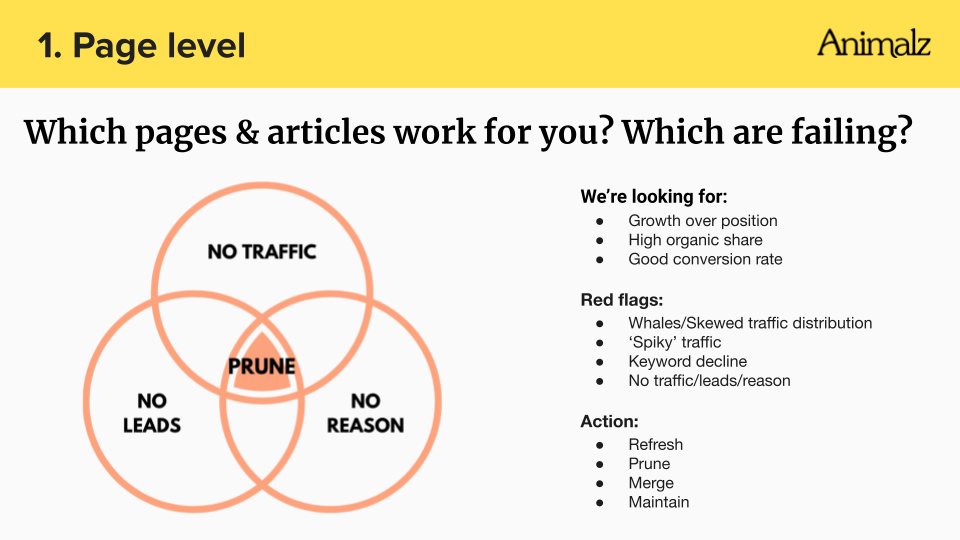 Updating, refreshing and even removing dead content is as important as creating high-quality content, especially for sites with hundreds and thousands of pages.
Consider the following red flags while auditing your content→
Look for content pieces that are generating little to no traffic and leads?
Is there any significant keyword or traffic decline in search engines?
Are you ranking for keywords that have no business value?
Once you identify content pieces falling into red flags, your job is to take the best possible action to revive these dead content.
Here are some of the possible actions→
Refresh (Updating old article with new research, data, information, trends)
Merge (Merge multiple content pieces together into one in-depth guide/ mega blog post)
Prune (If the content topic isn't relevant anymore or can't be aligned with the business goal, then removing the content is one option)
Maintain (Can it be reworked to maintain optimization?)
[Special thanks to Ryan Law (Director of marketing @Animalz) for sharing the slide deck with us]
Insights from Animalz, a content marketing agency
💡 2. Problem-Agitate-Solve (PAS) formula to write a kick-ass introduction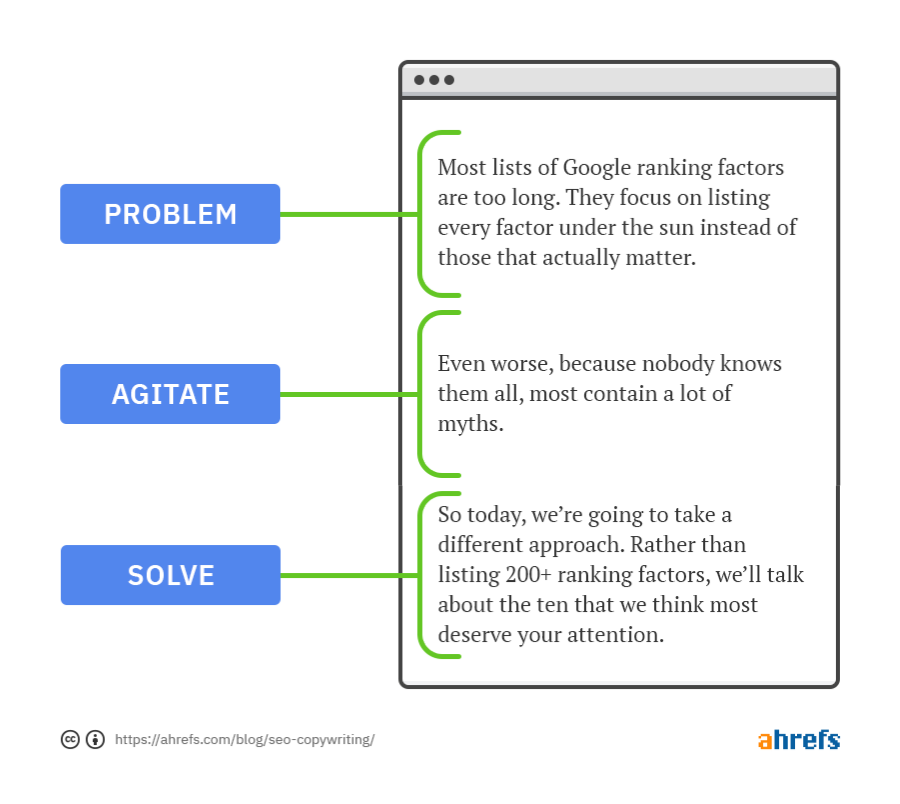 STEP 1: First, you identify a problem → Identify what problem(s) your content is going to solve for your readers. Highlight that in the first step.
STEP 2: Next, you agitate that problem → Now it's time to dig into their pain points so that your users literally ask for a solution.
STEP 3: Finally, you promise a solution → Also, show them why you are the right one to get the solution from. Showcase your/author's expertise on the subject or any numbers that prove your experience, like a case study.
Image credit: Ahrefs
Learn more about 27 copywriting formulas trusted by experts
💡 3. Reframe your content topic before start writing
Every piece of content you publish should:
have a clear goal
solve pain points/doubts/challenges of a specific audience
By reframing your content topic, you can create content aligned with the audience and their pain points.
Here's how:
First, write down the content topic at the top of the page.
Next, write down the goal (what's in it for the readers) of that content topic.
That's not enough yet. You need to deep dive into the end goal or ultimate benefits your readers will have from your content.
Therefore, ask yourself, 'so what?' and try to uncover your content's root benefits/goals.
Below, I've shared an example from one of my articles: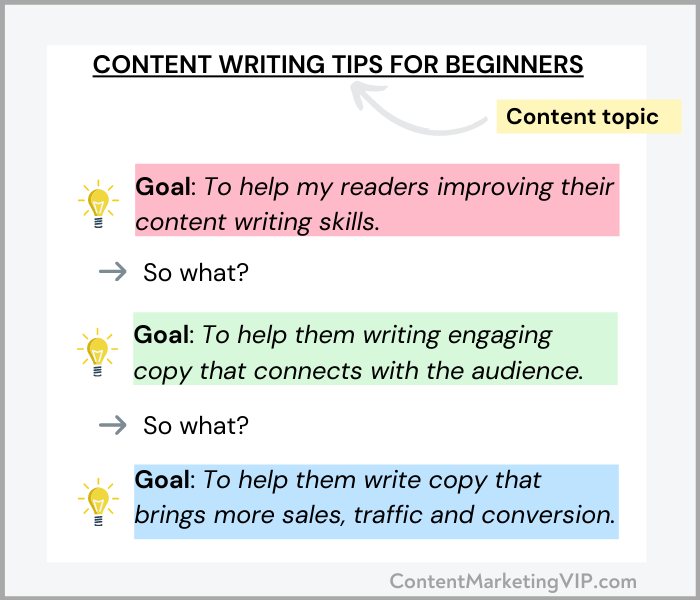 [This will force you to deepen your thinking on why you are writing this article and who is this ideally for]
You need to repeat this process until you've figured out the ultimate goal of your content.
Free resources ↓
💡 1. Content Refreshing: How to Get New Traffic from Old Blog Posts
Surely content refreshing is a way of driving lots of traffic with less effort.
In this webinar, Content strategists at Animalz will show you the right way of refreshing old content for a traffic boost.
Date of the webinar: 15th April 2021
💡 2. How to Use Video to Build Demand (and Making it a Part of Your Content Culture)
Everyone says that video is one of the effective content formats for almost every industry. But how to put that from idea to practice. This is what you're going to learn in this webinar.
Plus, you'll learn how to make video content a part of your content strategy and generate demand for your brand.
Date of the webinar: 14th April 2021
Latest happenings↓
💡 1. Twitter held talks in recent months to acquire Clubhouse for $4 billion (Bloomberg)
It is expected that podcasting will surpass the $1 billion mark this year. Not only podcasts but also audio-focused social media platforms (especially Clubhouse) is on exponential growth.
Surely, acquiring Clubhouse with over 10 million weekly active users will give Twitter space (a similar platform to Clubhouse) a huge boost.
What's in it for content creators and marketers?
There are so many ways that can monetize the followers on podcasts. In fact, Clubhouse is rolling out a payment feature that will allow users to donate room moderators.
Yes, this is just the beginning to start the monetization game.
Most of all, expect new rules and opportunities to come as the chances are that the ClubHouse platform will be acquired by any tech giant soon.
💡 2. Google product reviews update launched April 8
Here is the Google product reviews update in a nutshell (Seroundtable) →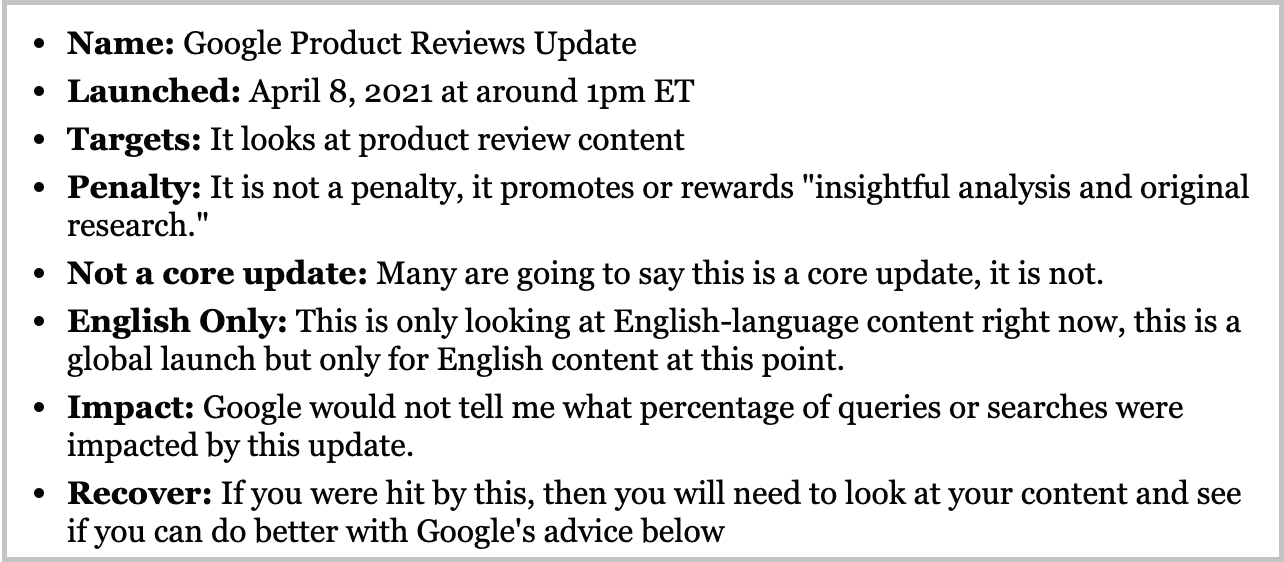 Also, I will say this again that consider EAT as your long-term content strategy.
Along with fixing thin content issues, focus on the EAT (expertise-authoritativeness-trustworthiness) info so readers and even Google can trust your product recommendation.
Check out this guide for an in-depth understanding of EAT.
Expert Quotes ↓
💡 1. Are you a content entrepreneur?
"A content entrepreneur is someone who creates content to grow an audience, and eventually makes money from that content they develop. Content entrepreneurs are building a content business, not using content as a marketing tool, side gig or hobby."
— Joe Pulizzi, Founder of the Tilt
💡 2. Content repurposing to 10x your reach
"De-risk the upfront costs of content by sharing across the internet. Turn your blog posts into tweets, newsletter insights, Medium posts, and LinkedIn posts. You'll 10x your reach while leveraging your content to grow other channels."
— Matt Maiale (Run community at Demand Curve)
Have some fun ↓
Only SEO folks are going to get this.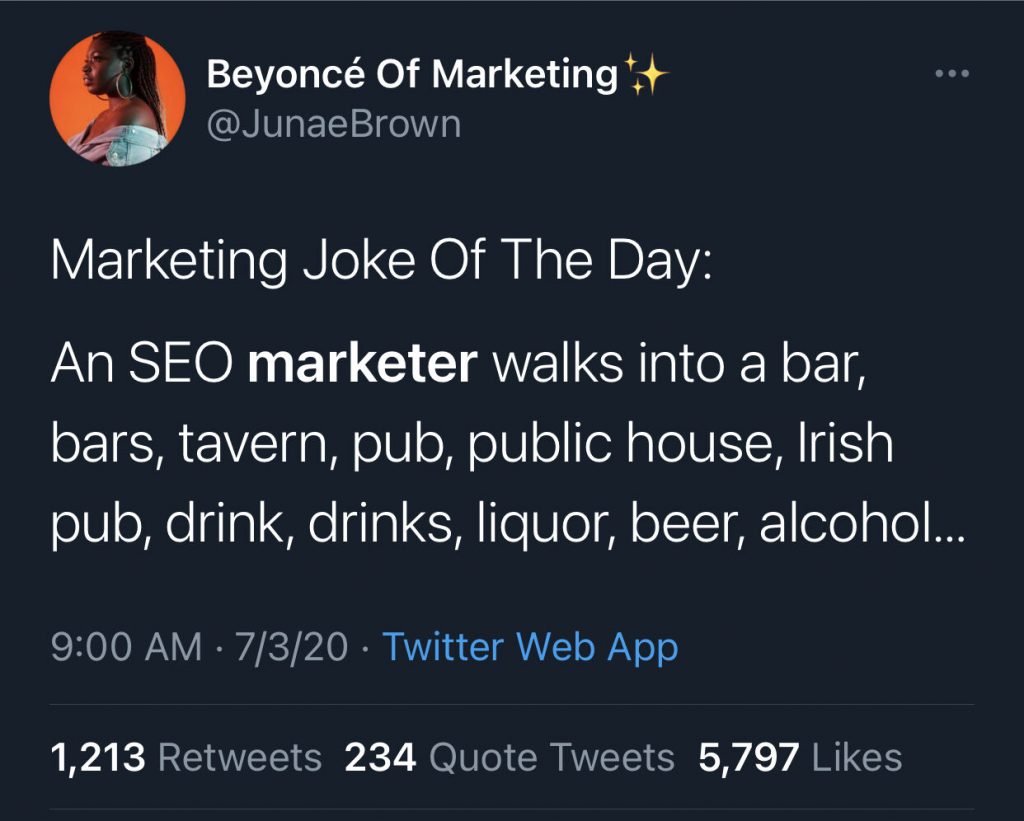 From Junae Brown
Submit a topic ↓
Share your biggest content marketing challenges with us.
Reply to this email with your challenges or any topic suggestion related to SEO and Content marketing.
We may feature your topic in the next episode of the content marketing newsletter.