"When we create content, we think, 'will our customers thank us for this?'" – Ann Handley.
Hey, Rafiqul here. Welcome to the 8th episode of the Content Marketing Newsletter that delivers actionable insights, the latest updates, & free resources every week, for free.
If you find this email annoying, safely unsubscribe at the bottom of the email.
If that's not the case, support us by sharing this newsletter with your friends.
LET'S GET STARTED →
Actionable insights ↓
💡 1. Write an introduction that hooks readers immediately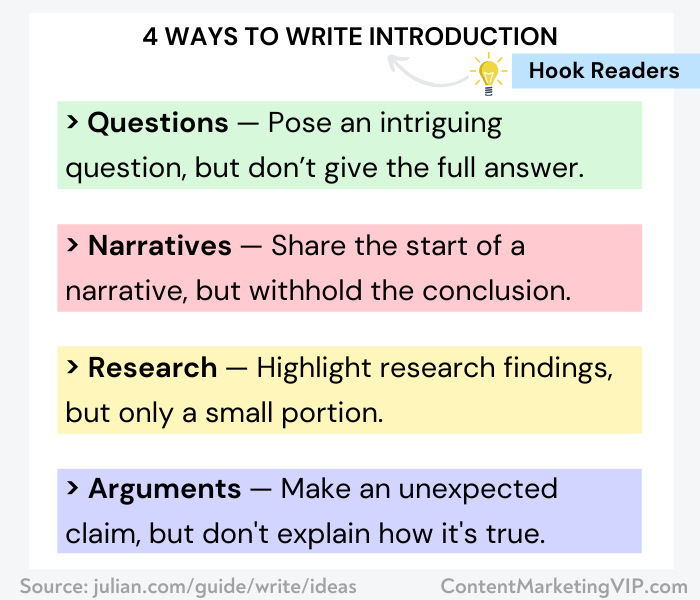 The most important part of your content after the title?
It's your introduction (more specifically, the first sentence) that hooks your readers and encourages them to read the rest of the article.
4 ways to write an effective introduction →
1. Questions
Example → "When was the last time you completed a free online course?"
2. Narratives
Examples → "A few weeks back, we collaborated with Moz and analyzed 2 million web pages to understand the characteristics of a quality content."
3. Research
Example → "3 out of 5 content marketing job descriptions mention SEO as a must-have skill, according to [publication name]."
4. Arguments
Example → "Content marketing is no longer a revolutionary trend that it used to be."
[All the above examples are used just for explanation]
Insights from Julian.com
💡 2. Don't use "click here" as anchor text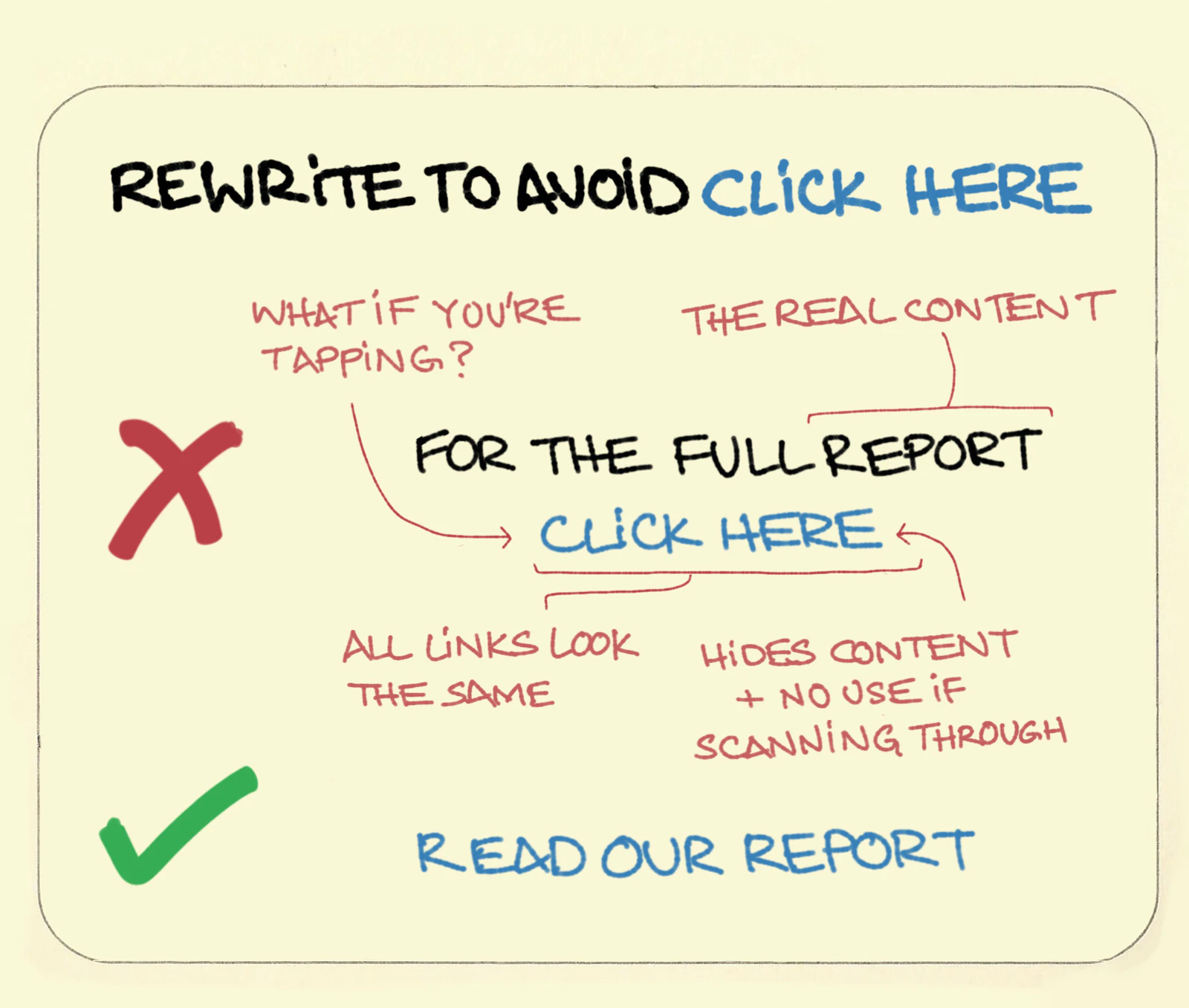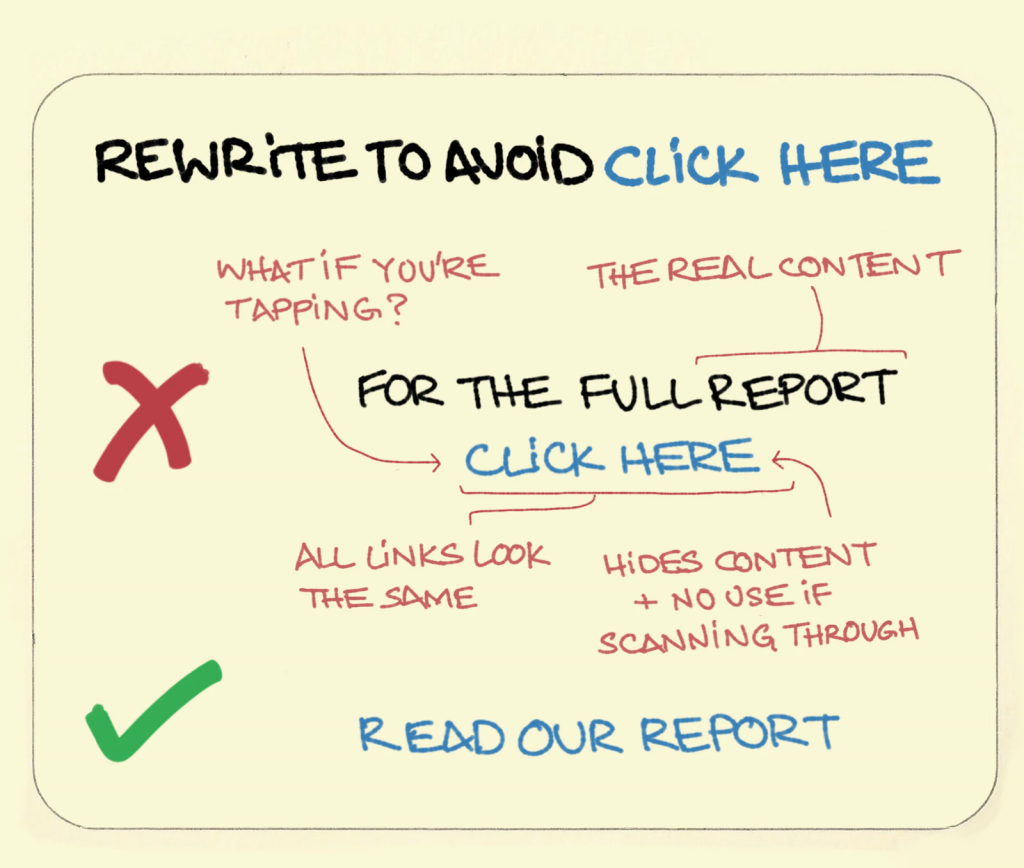 Image source: SketchPlanations
Stop using phrases like "click here," "learn more," "visit here" for hyperlinks.
Why?
It doesn't add context at all.
No context affects the user experience as readers will have no clue when they read the link itself. This may slow the user down a little.
It's not SEO-friendly (Google prefers contextual and descriptive anchor text to understand what the linked page is about)
The solution?
Use descriptive words that help the readers what to expect by reading the link itself.
That is why I use 'register for the webinar' or in my newsletter instead of saying 'learn more.'
An example?
Don'ts- Visit the page.
Do's- Get 10 copywriting examples.
[PRO Tip: Structure your sentence in such a way that the hyperlinks fall at the end.]
Here's an example →

If interested, read more about why you should never use "click here."
💡 3. Anatomy of a perfect welcome email
The average open rate for welcome emails is 86.03%, which is way more than average open rates for normal broadcasts, source: GetResponse.
Still, the irony is →
Only 57.7% of brands send welcome emails to new subscribers, as per invespcro.
Here's how to craft the perfect welcome email →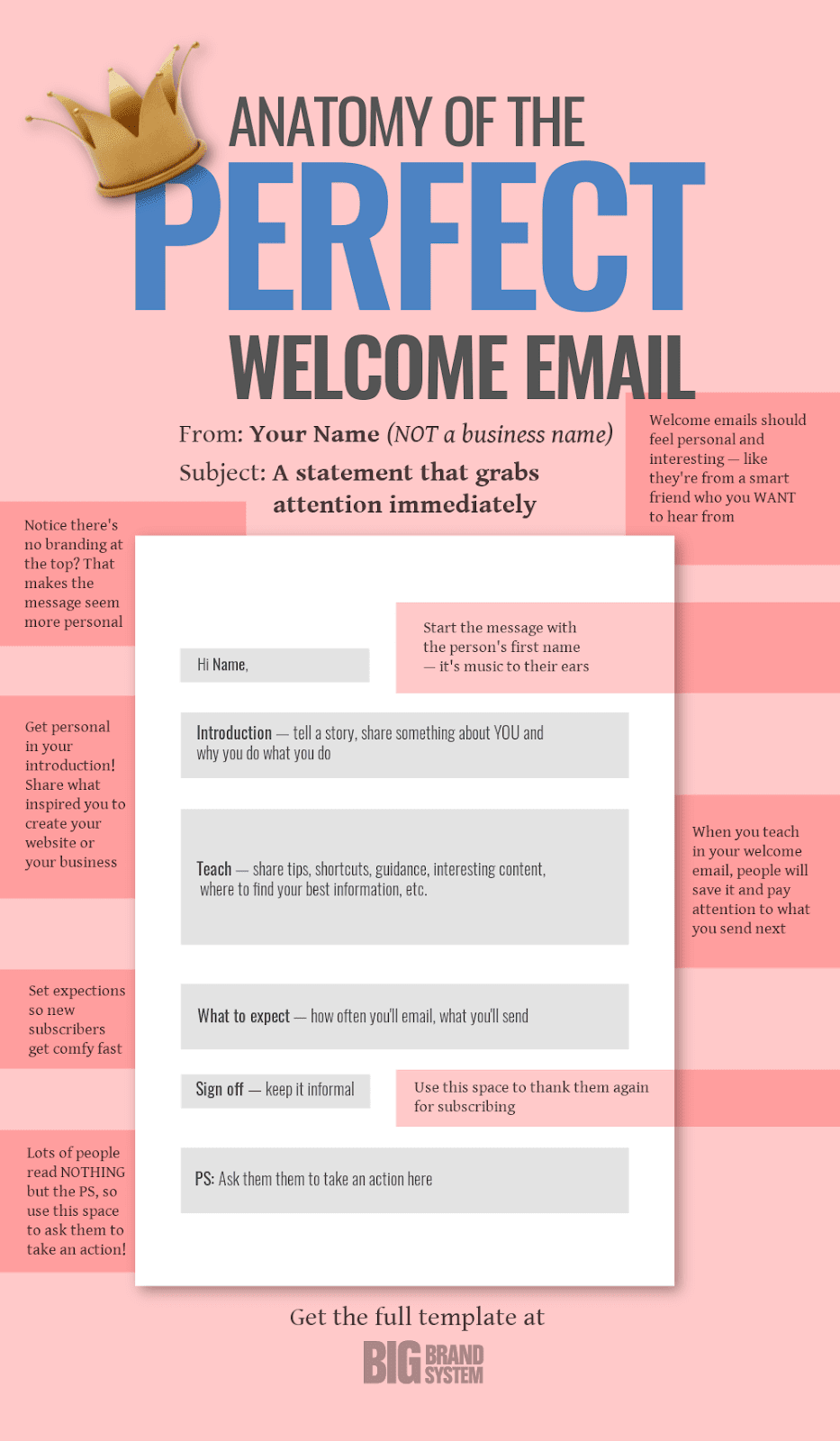 Send emails from your name (not company name)
Test your subject line, so it hooks the readers
Don't add a large banner/logo at the top of the email. Make it feel personal and friendly.
Write the introduction– tell about your personal story, what users can expect from you.
Offer value. Maybe a gift, coupon, or freebies are good ways to welcome a new member.
Make it very clear what they can expect and how often.
Sign off like a friend
Include a P.S always (Encourage them to take any action- grab my latest book, book a meeting, etc. are possible things to try)
Insights from BigBrandSystem
Free resources ↓
💡 1. How to build a content strategy that grows your business [webinar]
One area that every online business can control is how your brand and products get found on Google. This SEO focused webinar led by industry experts like Tim Soulo (CMO @ Ahrefs), Bernard Huang (Co-founder @ Clearscope), Tracey Wallace (Director of Marketing @ MarketerHire) will teach you →
How to compete with reputable sites on Google
Process of creating SEO-driven content that matches search intent
How to build a content strategy that helps to grow your business (not just in terms of traffic)
Date of the webinar: 21st April 2021
💡 2. Master the Art (and Science) of Link Building [webinar]
There's no denying the fact that quality backlinks can improve your search visibility and ranking significantly.
At the same time, link-building is one of the hardest areas of SEO.
In this webinar, conducted by Moz, you'll learn →
How external links affect your SEO performance
Proven strategies to find linkable content, finding outreach targets, and getting their attention
Measuring your link-building campaign
Date of the webinar: 22nd April 2021
💡 3. Prepare for Core web vitals before it's too late… [webinar]
Core web vitals (Google's new ranking factor) will roll out in May 2021. There are lots of confusion, misconception, and suggestions out there.
Look no further and spend an hour with Orbit Media to prepare for web vitals with clarity.
Date of the webinar: 20th April 2021
💡 4. A virtual event for SEO and content marketing [2-days event]
2 days.
20 speakers, and
5000+ marketers.
This mega event organized by ConductorC3 is one of the most awaited events of the year, where you'll get valuable insights on SEO, Organic marketing, and content marketing.
Event date: 20th April 2021 – 21st April 2021
Note: You need to register using your business email (Gmail, yahoo email addresses will not be accepted here)
Latest happenings↓
💡 1. A nice little update from Google this week
Here's what the update is all about:
"Have you ever done a search and wanted to jump back to the search box quickly, in case you wanted to search differently?
Now you can.
On desktop, after you've done a search, just tap the / key to bring your cursor back to the search box." – Google SearchLiaison
💡 2. Updates for product reviews sites
John Muller recently discussed that User-Generated Content Products Reviews will struggle to rank.
This also implies the importance of creating review content from experts. That way, Google will trust your site and the content as well.
Read the official guide for product review sites
Expert Quotes ↓
💡 1. Myth of attention span and the fear of creating long-form content
"People don't have short attention spans:
They have short consideration spans: they must be hooked quickly.
In short, don't fear making great, in-depth content. But, ensure your first minute is incredible."
— Julian Shapiro (Founder of BellCurve)
💡 2. Great headline with a lame opening
"A great headline mixed with a lame opening is like inviting someone into your house, only to slam the door in their face as they approach."
— Brian Clark (Founder of copy blogger)
Have some fun ↓
Google: New update is rolling out next week
SEO folks: 😨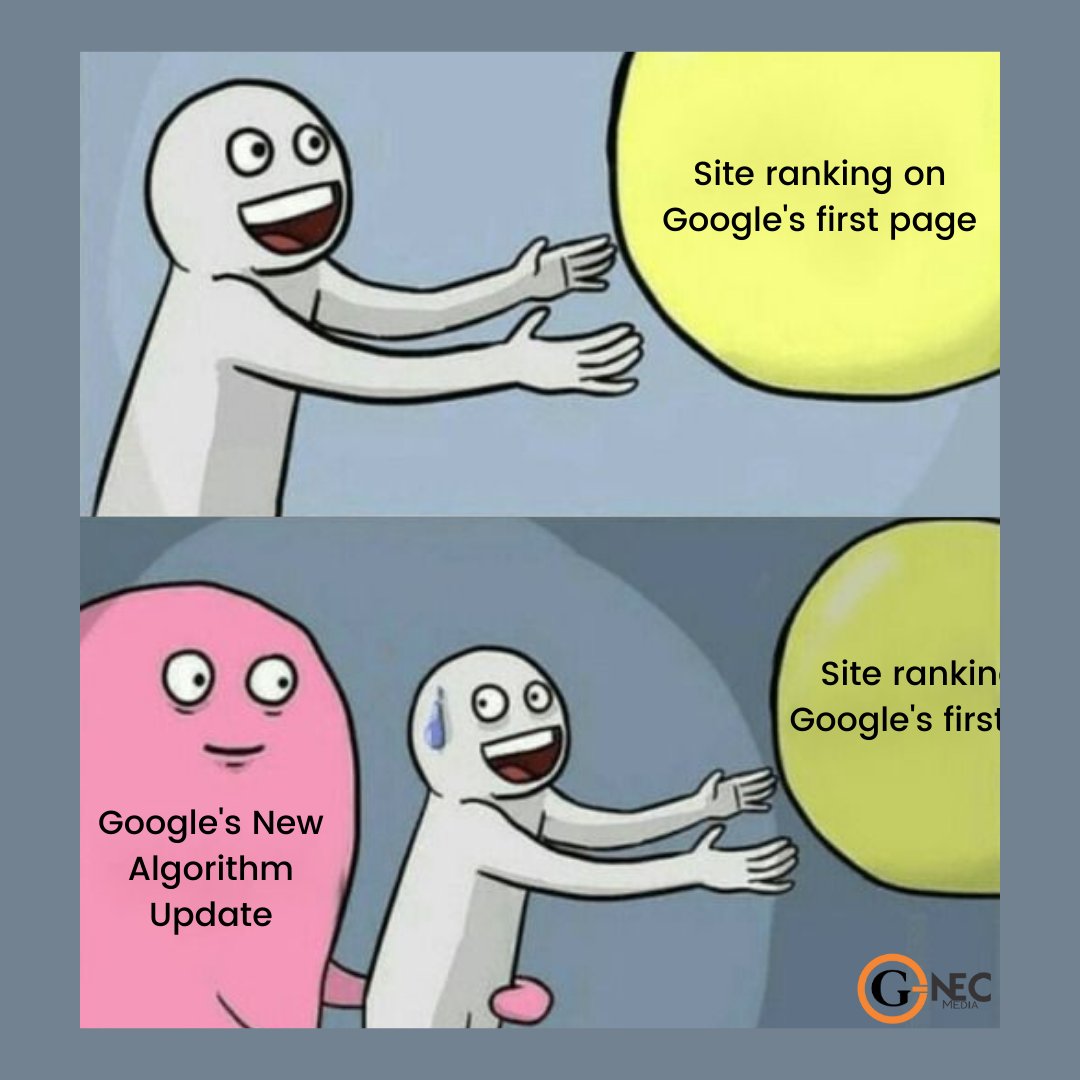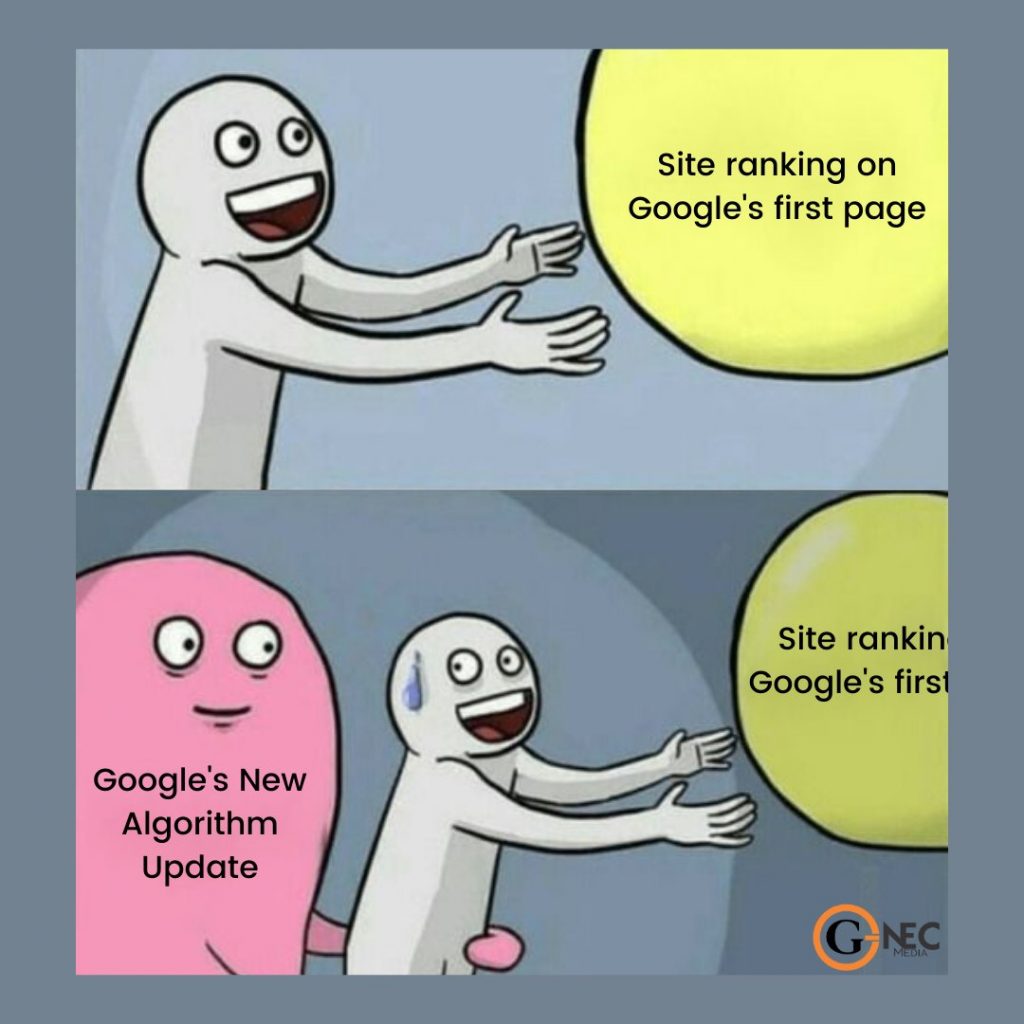 Image source: GNEC Media
Submit a topic ↓
Share your biggest content marketing challenges with us.
Reply to this email with your challenges or any topic suggestion related to SEO and Content marketing.
We may feature your topic in the next episode of the content marketing newsletter.