"Copy is never written. Copy is assembled."

– Eugene Schwartz, Copywriting expert.
Hey👋, Rafiqul here. Welcome to Content Marketing VIP that delivers actionable insights, the latest updates, & free resources every Monday, for free.
First time here? Read past episodes.
Let's get started →
---
🎯 Actionable insights
💡 1. How did 'Exploding Topics' grow to 65k+ visitors per month
This week Brian Dean (founder of Backlinko) did an AMA session on Reddit.
And, someone asked him the following question 👇
"If you were to start a SAAS app, what would it do?"
Here's what Brian Dean suggested →
"1/ Use product-led growth to get initial traction and backlinks.
As a SaaS company, you have a HUGE advantage over agencies, plumbers, and most other niches: you can create a valuable tool that helps your target audience.
2/ Publish long-form content that targets trending, low-competition keywords.
3/ Go back and continually update and improve that content.
Then, it's all about scaling. Scaling content. Scaling links. And doing non-SEO-related stuff (like AMAs) to spread the word about your brand."
👉 Here's the full Reddit thread
💡 2. Copywriting Formula: Feature, Advantage, Benefit
Copywriting helps in conversion and clicks. But only when you know how to write an effective copy.
Here's what Jeremy Moser (copywriting expert with 6+ years of experience) suggests while listing the product features.
"Don't just list features. Highlight the advantages those features bring, and the end-result they achieve (benefit)."
A great example is from Grammarly: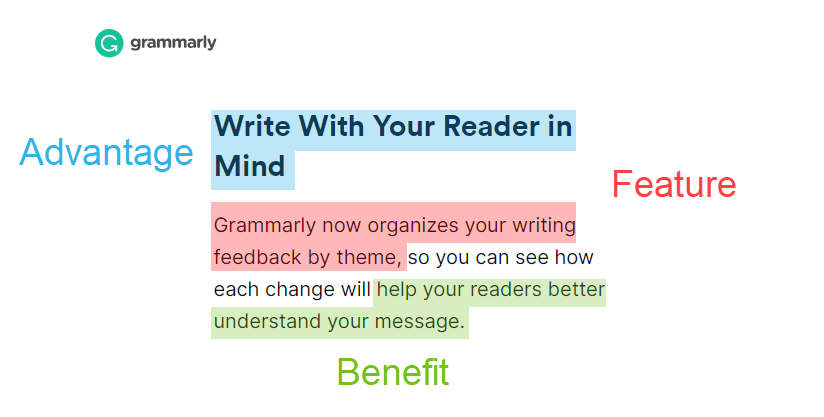 👉 Insights from Jeremy Moser (Read the thread on writing marketing copy)
💡 3. How Mailchimp Is Driving 46k+ Organic Visits Per Month With This Strategy
The 'marketing glossary pages' of MailChimp is ranking for hundreds of keywords like these:
"What is ROI"
"What is a landing page"
"What is a bounce rate," and a lot more.
As a result, these pages are driving 46.3k organic visits per month and have acquired links from 1.74k domains.

Here's a step-by-step process to steal Mailchimp's strategy:
Step 1/ Find the broad topic for creating glossary pages
Make it relevant to the business offerings. For example, if your business is in the HR services, the glossary page could be relevant to the HR glossary.
Step 2/ Identify and list sub-topics
Now, it's time to find all possible relevant sub-topics relevant to your primary idea. Possible sources to get ideas from are:
Customer interviews (questions that are often asked by prospects)
Google autosuggestions
Books (TOC of any book related to your topic will give you many relevant ideas)
Quora, Reddit, and other forums
The idea in this step is to get as many subtopics for definition as possible.
Step 3/ Refine the list of definitions.
Surely, you don't necessarily need to write thousands of definitions, even related to the primary topic.
Prioritize the keyword list by →
Search volume
Business value (how much valuable it is to your service or products)
Search intent (consider keywords with informational search intent)
Now, you have a list of keywords worthy enough to add to the glossary pages.
Step 4/ Make it short, simple, & straightforward.
While writing the definitions, make the title as simple as '[keyword] definition,' or something like 'what is [keyword].'
And add the definition in one paragraph. Sometimes it helps you win featured snippets as well.
Next, add relevant questions to the glossary keyword. This will help the page to rank on similar search terms.
Step 5/ Add FAQ schema
Adding FAQ schema for the related questions will help you stand out in the SERP.
Here's how Mailchimp is doing the same.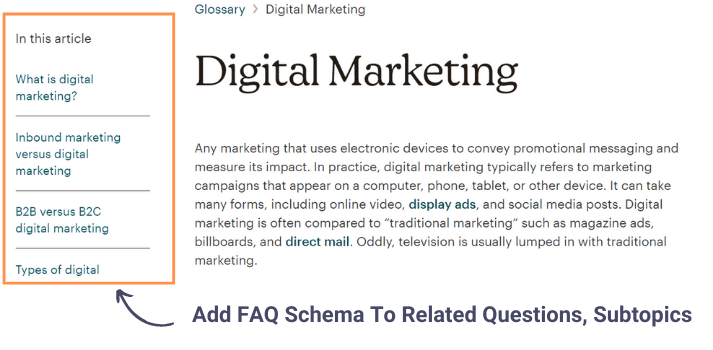 Step 6/ Categorize and interlinks
Internal linking is a must to get the most out of this strategy. Add internal links to relevant blog articles, pillar pages, service pages.
Even better, run editorial link campaigns to get the initial boost to the glossary pages.
👉 Learn about building glossary pages as a content strategy
---
🗓️ Upcoming Events
💡 1. The Business Of Content
The event is designed for leaders, managers, & directors to turn their content marketing effort into a sustainable revenue model.
Some of the topics that'll be covered in this event are:
> 5 key players for building a content machine
> How to get more outcomes with less content
> Using automation to scale content programs and more…
From: ContentRamp
Date of the webinar: August 26, 2021
👉 Register for the event (Free for first 1,000 registrants)
💡 2. 30 Minutes on the Last 30 Days In Search & Content
Almost every day, Google releases new updates to make the algorithm smarter.
But staying updated with the current trends in SEO & content marketing isn't easy.
Join this 30-minutes webinar and get quick insights on:
The latest updates in search, technical SEO, and content marketing.
From: Conductor
Date of the webinar: August 26, 2021
💡 3. How to Scale Content Output by 10x
To get to the next level, you have to scale the content creation and promotion process.
But sometimes, scaling the content process in the business can be challenging.
Join this webinar and learn about:
Building an effective content process for growth
How to pair subject matter experts and content optimization at scale
Tool Sets to maximize the content output
From: MarketMuse
Date of the webinar: August 24, 2021
👉 Register for the event for free
---
🆕 What's New
💡1. Newly launched Core Web Vitals validation tool [Free]
Looking to optimize your site for core-web-vitals (CWV)?
Introducing a new tool called SpeedVitals, including both lab and field data.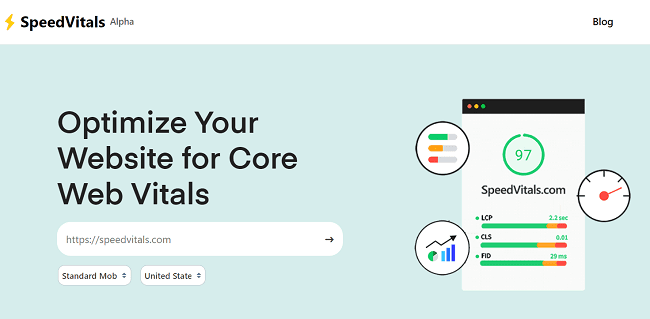 With SpeedVitals, you can get CWV performance reports from different mobile devices and locations.
💡 2. Search Intent Keyword Classifier (Free Data Studio Dashboard)
Thanks to Lazarina Stoy, who made this awesome Google data studio dashboard that helps classify keywords by search intent.
With this Google studio dashboard, you can:
Search keywords by SERP feature
Get an overview of the keyword cluster (keyword difficulty, volume, etc.)
Find search intent distribution for a related keyword
And, a lot more…

A GDS dashboard recommended by SEO experts
👉 Copy the search intent Dashboard
---
💬 Expert Wisdom
💡 1. Email marketers, do this before September.
"If you have an email list, I strongly recommend enabling double opt-in before September.

When iOS15 comes out, open rates are going away.

This means that you won't be able to remove bots, fake signups, or inactive subscribers anymore."

– Andrea Bosoni
💡 2. Three SEO Questions to Ask when doing tech SEO
"* Are your pages meant to be ranked pages crawlable, indexable, mobile-friendly, secure, and well linked internally?

* Are you indexing content that shouldn't & being left out of index anyway?

*Do your pages have a fast-loading experience?"

– Aleyda Solis
---
😄 Have Some Fun
---
🤝 I need your support
As you can imagine, showing up every Monday with useful insights and free resources takes some time and resources.
So, If you ever wanted to show your support to my content effort:
✨ Purchase the eBook and get 50+ actionable content marketing lessons (compiled the best of this newsletter).
Can't afford the ebook but want to support my effort?
Just share the newsletter with your people.
Don't forget to tag me (Twitter handle @12Rafiqul) so I can feature you in the next episode.
Thank you so much for all the love ❤️ & support ✨
If you find this newsletter deserving to be seen by others, please share or forward this with the folks interested in content marketing. Thank you so much for all the love ❤️ & support 🙌