Take a moment and Google the following questions now:
Who is the founder of [your brand]?
Where [your brand] is located?
When [your brand] is founded?
Ideally, Google should show a clear and accurate answer (with a featured snippet) to these questions.
Here's an example: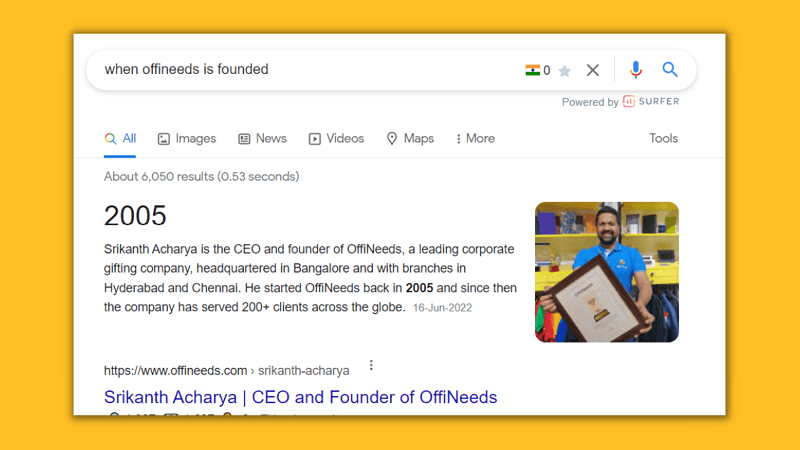 If Google shows wrong or unclear information, it may not have enough information about the entity. If that's the case with your brand, follow the action items.
Action Items:
First, make a list of all the important branded queries.
Second, cover these questions either on your website (recommended), third-party websites, or both. e.g. you may create a separate page for the founding team members.
This is why you should also focus on building social profiles with accurate information about the brand (team, about, foundation, etc.)
Benefits:
Branded queries (navigational intent) can contribute to the bottom of the funnel.
When users don't find a clear answer to their branded query, it gives a bad user experience from a branding perspective.
In fact, Google prefers to rate a website low-quality if the following information is not covered:
Who's behind the brand?
What's the expertise of the brand?
Contact information
Information about who created the content
Tip: First, answer the question (if any) in the 1st paragraph.
✔️ Sk Rafiqul Islam is the founder of Content Marketing VIP…
❌ Sk Rafiqul Islam started Content Marketing VIP newsletter to provide SEO insights…
This can help in getting featured snippets for the branded queries.